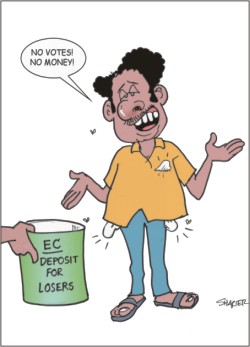 As many as 900 candidates, out of 1,555, have lost their security deposits for poor performance despite a record turnout in the ninth parliamentary elections.
No candidate of 30 political parties, registered with the Election Commission (EC), could make it to the next parliament, which means that only eight political parties will have representatives in the parliament.
Apart from candidates of minor political parties, most of the 148 independent candidates and a number of nominees of BNP, AL, Jatiya Party and Jamaat-e-Islami lost their security deposits.
As per the electoral laws, a candidate must secure minimum one-eighth of the total votes to save his or her security money, deposited while filing nomination papers.
In the 2001 parliamentary elections, a total of 1,939 candidates contested the polls. Of them, 1259 failed to save their security deposits.
Fifty-five political parties contested the 2001 elections but the number decreased to 38 in the just concluded parliamentary polls because of the EC's strict registration rules for contesting national election.
Over 100 parties applied to the EC for registration from September to October. Of them, 39 parties got registered with the commission as the rest failed to meet the registration criteria.
Fifteen registered political parties fielded candidates, numbering between one and eight, in the polls.
Among the small political parties, only Islami Andolan Bangladesh nominated candidates in 166 seats but almost all candidates of the party failed to save their security deposit.
Of the candidates of major political parties, AL's Ataur Rahman Shamim in Moulvibazar-2 constituency lost his security deposit. AL backed the Jatiya Party nominee, who won the seat.
BNP candidates in Shariatpur-1, Faridpur-4 and Moulvibazar-2 and in all three constituencies in Gopalganj forfeited their deposits.
Jamaat nominee Moniruzzaman Montu in Nilphamari-2 and Islami Oikya Jote candidate in Madaripur-1 forfeited their security deposits.
Nine Jatiya Party candidates including Rawshan Ershad in Mymensingh-4 also lost security deposits.
Bikalpadhara leaders AQM Badruddoza Chowdhury, a candidate in Dhaka-6 and Maj (retd) Abdul Mannan in Dhaka-11 also forfeited their security deposits.