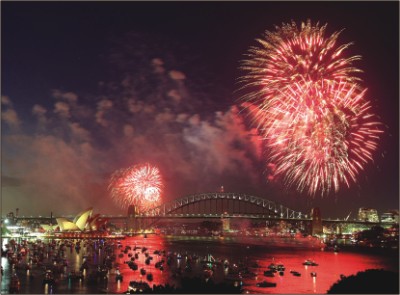 Amid the jubilation and celebration of New Year's Eve, another feeling is present for many as a decidedly rocky 2008 comes to a close: relief.
Randolph King, 63, of York, England, tried to forget his retirement fund losses as he sat on a hill overlooking Sydney Harbour, awaiting the city's annual New Year's fireworks display
Facing the end of a year that saw global markets come crashing down taking the world's morale with them partygoers everywhere struggled to forget their troubles on what is typically a joyous night.
In the Philippines, President Gloria Macapagal Arroyo spoke of hope for better days to come, while in Hong Kong, some admitted they were too depressed over their monetary woes to join in the revelry. And in Malaysia, the government mindful of the shaky economy opted against sponsoring any celebration at all.
In Sydney the first major city to ring in the new year organizers were hoping the $4 million (6 million Australian dollar) New Year's festival would offer revelers a brief respite from the global gloom.
"There's so much misery around," fireworks director Fortunato Foti said. "If we can get people to forget all that and think just about the fireworks for 15 to 20 minutes, we will have done our job."
Armed with blankets, snacks and umbrellas to protect against the searing Australian summer sun, tens of thousands waited hours along the shores of the city's glittering harbour for the midnight fireworks extravaganza, expected to draw more than a million spectators.
But in Hong Kong, where thousands were expected at popular Victoria Harbor for a midnight fireworks display, those who had investments linked to collapsed U.S. bank Lehman Brothers said there was little joy to be found.
"There is nothing to celebrate knowing that my investment is worth nothing now," said Chan Hon-ming who had purchased a $30,000 Lehman-backed investment.
In India, many were happy to see the end of 2008, during which the country was rocked by a series of terrorist attacks in several cities culminating in a three-day siege in Mumbai in which gunmen killed 164 people.
In Tokyo, dozens of volunteers stirred huge pots of New Year's rice-cake soup, pitched tents and doled out blankets and clothing to the needy.
The "New Year's Village for Temporary Workers" was set up for the first time this year to provide free meals and shelter in a park. About 100 people signed up to spend New Year's Eve at the village, which will hold a countdown ceremony and be open through Jan. 5.
In Thailand, after a year of near-daily protests and six months in which demonstrations all but paralysed the government the country was finally calm on the last day of 2008 as loyalists of ousted ex-Prime Minister Thaksin Shinawatra took off for a five-day national holiday.