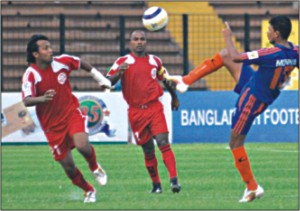 Muktijoddha Sangsad earned their first point in the Citycell B. League when the bottom-tale side held Brothers Union to a 1-1 draw at the Bangabandhu National Stadium yesterday.
It was a blow for title contenders Brothers, who stumbled to their third successive draw and overall fourth in six games to stay four points behind leaders Sheikh Russel, who are on 14 points.
Brothers, however, took an early lead with Matiur Munna scoring from a rebound but Kanchan cancelled the advantage for the Reds with a spectacular freekick within five minutes.
Abdullah Parvez set the stage for the opening goal for the Oranges, who drew 1-1 with Mohammedan three days earlier, five minutes after kick-off.
Parvez, who also had a hand behind Brothers' equaliser against Mohammedan, curled in a freekick from the right for Zahid to leap above the rival backline and nod the ball past goalkeeper Mustaq.
Unfortunately the ball came off the inside of the far post but Matiur Munna, the national skipper, was following up and tapped in from one yard out of goal.
Brothers conceded a freekick five minutes later and Kanchan bent the ball from 20 yards over the wall and into the right hand post of Zia at the Brothers goal to score level.
After five defeats in as many games, no one gave Muktijoddha much chance to survive but the Reds held on to the scoreline despite their opposition enjoying superior possession.
But Wasim Iqbal's side once again showed accuracy as their lone striker Tapu failed to utilise any of his three chances. The striker twice headed the ball over while saw his backvolley in the first-half stoppage time go straight to young keeper Mustaq, who returned to the line-up after missing a game due to injury.
Muktijoddha, who proved good on counter attacks, created better chances but Walid's diving header on a cross by Kanchan sailed over.
Zia then came to action, stopping efforts by Walid and Kanchan before the break.
The Reds once again showed signs of tiring in the second half and Brothers were pressing hard but midfielder Shakil failed to keep a header and a close-range shot on target. Tapu also came close but inspired defending by Nigerian player Davis Majemu denied the Brothers striker a shot at goal.
Brothers made two changes, removing Parvez and Munna but Roni and Liton both failed to inspire the strikers to steal a match winner.
The end was like a win for Muktijoddha players, who were celebrating after putting an end to their losing streak for nearly two months, especially after conceding ten goals in the last two games including a humiliating 7-0 defeat at the hands of Mohammedan.
"We have finally created a playing environment where it is possible to concentrate on the game," said new coach Atiqur Rahman, who was in charge of his second match in the league.
"The players have got some money finally and we managed to train for the past few days, which was not possible in the past months. Today's draw is the result of that," added the former national goalkeeper, who replaced Asghar Ali Nasir at the helm of struggling club, whose officials were jostling just before start of the game.
TEAMS
MUKTIJODDHA: Mustaq, Roni, Majemu, Biplab, Bappi, Biddyut, Sentu, Jalal, Tajul (Amin Rana) Kanchan and Walid (Milon).
BROTHERS: Zia, Arup, Ariful, Shuvra, Divine, Mishu, Zahid, Shakil, Munna (Liton), Parvez (Roni) and Tapu.
Referee: Azad Rahman.