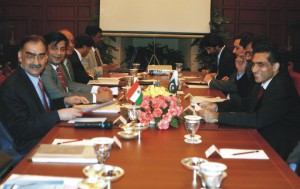 India and Pakistan officials discussed yesterday the July bombing of India's embassy in Kabul that had threatened peace moves between the South Asian rivals, a foreign ministry statement said.
"Information on issues of mutual concern including the bombing of the Indian embassy in Kabul was exchanged" during the meeting of the Joint Anti-Terrorism Mechanism set up in 2006, the statement said.
No further details were immediately available.
Indo-Pakistan ties were seriously strained after New Delhi accused Pakistan's military intelligence agency of involvement in the July 7 bombing of its Kabul mission.
Four Indians, including two diplomats, were among scores killed in the attack.
The joint anti-terrorism group was set up after train bombings in India's financial capital Mumbai in July, 2006. India claimed Pakistan had a hand in the blasts, which killed 186 people.
New Delhi also accuses Islamabad-backed Islamic militants of waging an insurgency in the disputed Himalayan territory of Kashmir and of triggering attacks in other parts of the country.
Pakistan strongly denies it arms or trains the militants.
The South Asian rivals have been engaged in slow moving peace talks to normalise ties since January 2004, but there has been scant headway on Kashmir, the trigger for two of their three wars since 1947.
Meanwhile, shops, schools and offices in the Kashmir valley closed Friday in line with a one-day strike called by separatist groups as a rebuke to the United Nations.
The strike, which coincided with UN Day, was "to remind the United Nations of its commitments towards the resolution of the Kashmir dispute," a statement by separatist groups said.
A string of decades-old UN Security Council resolutions call for a referendum to allow the Kashmiri people to choose between India and Pakistan, but have never been implemented.
The strike crippled life in the Kashmiri summer capital Srinagar, where Indian police clashed with Muslim protesters on Thursday after two senior separatists were arrested.
Residents and police said the strike was being observed in other towns in the Muslim-majority Kashmir valley.
In August, tens of thousands of Muslims took to Srinagar's street to demand that the UN recognise the Himalayan region's right to self-determination.
In the past few months, Indian Kashmir has witnessed the biggest pro-independence demonstrations since a separatist insurgency erupted in 1989.