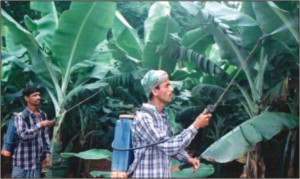 Indiscriminate spraying of harmful hormones and chemicals in banana orchards in hilly upazilas of Modhupur, Ghatail and Sakhipur continues unabated, posing a serious health hazard and causing environmental degradation.
The hormones are usually sprayed to increase yield of banana, making it larger and ripen it quickly.
Banana consumers have become vulnerable to different kinds of diseases including cancer.
Due to rampant use of harmful chemicals, environmental friendly worms and insects are also decreasing fast.
About 2 lakh tonnes of bananas are produced in the three upazilas every year.
This year, 4,000 hectares of land were brought under banana cultivation in Modhupur, 2,500 hectares of land in Ghatail and 700 hectares in Sakhipur.
During a recent visit to Modhupur, banana growers said they apply 'planofix' hormone during budding stage to get early yield and look those larger.
'Ethrel' hormone is applied to the fruits after harvest to ripen those early and look those yellow. The two types of hormones are very harmful to human beings. Even they cause cancer, experts said.
When contacted, Agriculture Extension Department (AED) deputy director here Horipada Ghose said mobile teams comprising officials of upazila administration and agriculture department patrol the area to stop the bad practice.
Moreover, AED holds regular motivational campaigns to create awareness among farmers about bad effects of the hormones, he said.
The Crime Prevention Company-3 of Rapid Action Battalion-12 led by Captain CAH Mahmud raided Modhupur banana market, the biggest one in the district last week.
They caught red-handed five sprayers and 20 banana wholesalers when they were spraying harmful chemicals to ripen bananas. They damaged 1,000 bunches of bananas on the spot. Each of the sprayers were fined Tk 5,000 under Food Purity Acts. Later, 20 banana wholesalers were released after giving undertakings.