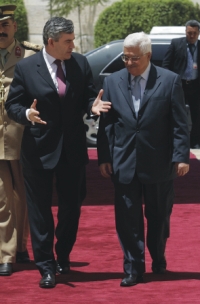 British Prime Minister Gordon Brown yesterday pledged further economic aid to the Palestinians aimed at bolstering the US-backed Middle East peace process.
"We have pledged 500 million dollars for economic development in Palestine over three years to 2011," Brown said following a meeting with Palestinian president Mahmud Abbas in the occupied West Bank town of Bethlehem.
"I can announce today a further commitment of 60 million dollars, 30 million of which we will give as direct budgetary support, bringing our total support to the Palestinian Authority this year to 175 million dollars."
In keeping with his "economic roadmap to peace" Brown pledged support for a new mortgage finance authority, which he said would assist with the financing of some 30,000 new Palestinian housing units and generate up to 50,000 new jobs.