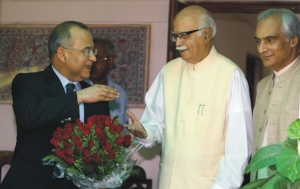 Pakistan's Foreign Secretary Salman Bashir has arrived in India through the land transit route at Atari border to hold the fifth round of foreign secretary level Composite Dialogue Process (CDP) in New Delhi today.
"I have come to India to hold talk with my Indian counterpart on the issues of peace and security of both the neighbouring nations including Jammu and Kashmir," Bashir said talking to the media persons on the Indian side of the border.
Bashir said he was expecting good results from the meeting slated for Monday in the larger interest of both the nations, since "we want a peaceful atmosphere on both sides".
Bashir also informed that during the meeting, discussions with regard to release of prisoners and trade between the two nations would also be held.
On the unidentified Indian prisoners languishing in Pakistan's jail, he said a judicial enquiry was still in process and it is likely to bring fruitful results at the earliest.
Meanwhile, ahead of the foreign secretary level talks between India and Pakistan on Kashmir, Peoples Democratic Party (PDP) yesterday said all resolution process must be aimed at gaining momentum to tide over the fresh wave of disillusionment and alienation in Jammu and Kashmir.