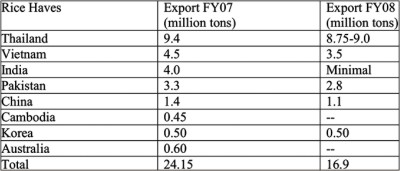 ONE of the basic necessities of a commodity's availability is trade. Adam Smith, in his seminal work in 1776, had shown that comparative advantage of nations through trade was the key to increasing the economic wealth of all nations.
Rev. Thomas Malthus put forth the idea of a future world where a majority of the people starves due to lack of food. Given the circumstances of the world in the past two years, Rev. Malthus may be considered a sage even though he himself, as a man of God, may not have been happy about the reality of his prediction.
When the commodity is rice, which has global demand, the continuous globalisation of international trade in the commodity will bring about price parity between supply and demand. Rice prices are running at 10-year highs.
It is said to be the breakdown of the "Goldilocks era" for global commodities -- a period stretching back more than 30 years, during which the prices of basic foodstuffs had been neither too high nor too low, but remained relatively constant. For most of this period, the cost of staples such as wheat, corn, and soya had actually fallen in real terms. And food buffer stocks are at an all-time low, as countries saw no need to accumulate them.
Many developing countries are heavily dependent on imported rice, and volatility in international commodity markets creates serious problems for them in terms of trade. As rice prices are exploding, developing countries are facing the enormous problem of having to export much more to pay for a given volume of imports. The worsening in the terms of trade will adversely affect living standards in these countries.
This is even more exacerbated when there is a direct restriction in the trade of rice by the producing countries themselves. Many of those countries have cut back on exports due to fears of shortage. Recent articles in the global press have pointed out a division of the world based on the "rice haves" and the "rice have-nots."
This is especially true of Asia where, as a region, the "rice haves," where domestic production is enough to feed the population, and "rice have-nots," which consistently rely on imports, have the ability to control food and its trading.
Given that Asia is overwhelmingly dependent on rice, the lack of trade in this staple will create the basis for Asian hunger and starvation in a manner almost too cruel to imagine.
The decline in possible rice exports by 33% reveals a huge gap in the "rice-have-not" countries, which are hardest hit by the price rise crisis. Countries such as North Korea, Philippines, Malaysia, Bangladesh, and Sri Lanka are holding the short end of the stick carrying the rice bowl.
Rice exporters Thailand, Cambodia, Laos, and Myanmar have discussed a proposal by Thailand that they form a cartel. Ostensibly, their focus was not to raise prices but to address concerns "to contribute to ensuring food stability, not just in an individual country but also to address food shortages in the region and the world," in the words of Cambodian Prime Minister Hun Sen.
However put, this sounds quite like an oligopoly in the most important resource in Asia. Government regulated hoarding, in an era of rising demand, will inevitably lead to higher prices. The main gainers are farmers in rich and emerging market nations like the US, Brazil, Argentina, Canada, and Australia, who are getting record prices for their harvests.
The main losers are poor people who live in cities in developing countries, who are facing higher prices for imported food with low incomes. Food riots from Haiti to Indonesia are causing increasing political instability.
The World Bank says that the high price of food could lead to developing countries missing international poverty targets. That is a price that most of us, especially in Bangladesh, cannot economically pay. That is a price that most of the world, especially the global "rice haves," cannot morally ask us to pay.
Mir Mahfuz ur Rahman, a student of economics and international relations from Johns Hopkins University, is a merchant banker.