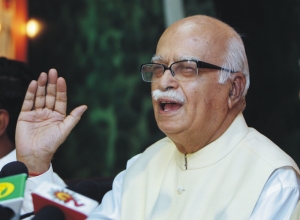 Accusing the Congress of indulging in "trade-off" with Samajwadi Party for government's survival, BJP yesterday asked Prime Minister Manmohan Singh to immediately seek a vote of confidence in Parliament.
"Government has been reduced to a charade...It has lost moral legitimacy (to govern)...For survival, Government seems ready to trade off anything," BJP's Prime Ministerial candidate L K Advani told a crowded press conference in New Delhi.
"For all practical purposes, Manmohan Singh government has lost majority in Lok Sabha...Government should immediately convene a session of Parliament and seek a vote of confidence," he said.
"Credibility of the Congress and Samajwadi Party lies in shambles," the senior BJP leader said, a day after Congress clinched a deal for getting the support of SP, which has 39 members in Lok Sabha, in the event of a confidence vote.
Congress wooed the SP after it became clear that Left parties having 59 members in the Lok Sabha would snap ties with the UPA if government went ahead with the Indo-US nuclear deal.
"Differences between two principal partners of UPA paralysed the Government for the past 18 months," Advani said referring to the stand-off between Government and the Left parties on the nuclear deal.