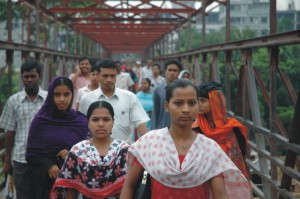 Ours is a male dominated society. Here women are suppressed and oppressed in various ways and forms both at home and at the office. At the office, the male officers always think the women officers are lazy, idle and worthless. They always show such an attitude that women should remain at home and they are quite incapable of performing the official duties. But all these self-declared heroes never remember for a moment that the head of the state was a woman and the opposition leader was also a woman. When the developed countries are sending their female counterparts to the moon, our male counterparts are getting thanks for exposing such ill feelings against their female counterparts.
The bosses are unwilling to depute a lady officer to a good and lucrative desk (lucrative in the sense of money). Because every moment they are afraid of losing "percentage" from the clients, which they can manage easily from a male officer. The women officers always remain at their desk, work efficiently and sincerely and try to be honest and clean to their conscience. But they never get any appreciation from the bosses.
The situation should change for the better.