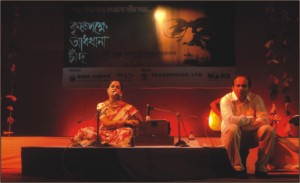 Cultural organisation Sangbrita Abritti Charcha O Bikash Kendra in association with Scholar's Publishers arranged a fundraising programme for the ailing poet Samudra Gupta at Shawkat Osman Auditorium, Central Public Library on July 4. The programme titled Krishnopokkhe Adhkhana Chand featured solo recitation by Mahidul Islam and rendition of songs by Dilara Khan Rupa.
"We are not immortal but it is heartening to see everyone coming forward to help Samudra Gupta with love and respect," said media personality and President of Bangladesh Abritti Samannay Parishad, Asaduzzaman Nur. Nur gave the welcome speech at the programme.
Poet Nirmalendu Gune said, "At present Samudra Gupta is hospitalised in Bangalore. Recently he underwent a surgery and he is doing better. We hope that he will come back to us soon."
Nirmalendu Gune handed over a cheque for Tk. 70,000 to Samudra Gupta's daughter Swapno Samudra.
The cultural programme started with recitation of Antar momo bikoshito koro by Mahidul Islam. Dilara Khan Rupa sang Tumi nirmalo koro along with Mahidul's recitation.
Among the poems Mahidul Islam recited were, Hothat dekha (Rabindranath Tagore), Jatra bhango (Nirmalendu Gune), Bharat ek khonj (Joydev Basu), Jelkhanar chithi (Nazim Hikmat, translated by Suvas Mukhopadhyay), Saari (Subodh Sarkar), Batashey lasher gandho (Rudra Muhammad Shahidullah) and Jete chash cholei jabi (Shanti Lahiri).
Dilara Khan Rupa rendered several Nazrul Sangeet and songs of Moushumi Bhowmik and Lopamudra Mitra.
Rupa's rendition included Shaon ashilo phire, Aamar apnar cheye, Aabar bhalobashar shadh jagey, Swapno dekhbo boley, Benimadhob, Tomra ke he, Shorirtar bhetorey and more.