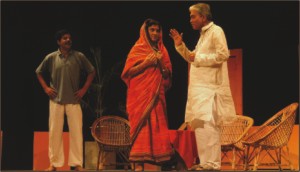 Phire Esho Prem, written and directed by Chandan Sen, is not like the typical plays that portray the sufferings of the elderly who do not get proper care in the family. Rather, it features the solitude of aristocrats whose offsprings for career building live abroad.
As part of the theatre festival arranged by Bahubachan, Indian troupe HaZaBaRaLa staged Phire Esho Prem on July 4 at the National Theatre Stage.
Like many couples of Salt Lake, a posh area in Kolkata, Shukhomaya and his wife Anurupa lead a monotonous life in a ghostly palace. The elderly couple eagerly wait for messages from their two sons who are non-resident Indians in England and the US.
When Shukhomay's nephew, Amal along with his family comes to stay for a month at Shukhomay's palace for the treatment of his son, the palace gets life.
And when Amal and his family depart after a month, the elderly couple becomes monotonous again and they long for love and care.
In fact, the message delivered in Phire Esho Prem is that it is not wealth, but healthy family life that can make a person happy.
For the sub-plot of the play, Chandan Sen portrays the tendency of the younger generation who being alienated from the tradition are leading a western lifestyle.
However, Chandan Sen's directorial composition is typical 'living room'
centred theatre of Kolkata. All of the actions take place in the living room of Shukhomaya's palace, especially on the 'sofa'.
Set designer Arun Roy has created a realistic ambience of a living room. Jayanto Mukhopadhyaya's light design is simple but effective.
However, the soulful performance of Prabir Dutta as Amal remains the most attractive part of Phire Esho Prem. He has successfully incorporated himself with the inner conflict of the character.