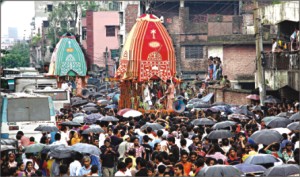 Hindu devotees yesterday celebrated the annual Jagannath Rathajatra (chariot procession), one of the biggest religious festivals of the Hindus, amid religious fervour and festivity across the country.
The country's biggest Rathajatra started from International Society for Krishna Consciousness (Iskcon) temple in the capital's Swamibagh seeking divine blessings for universal peace and harmony.
The procession brought out at 4:30pm marched different streets in the capital and ended at Dhakeshwari National Temple. The Rath will be returned to the Iskcon temple from Dhakeshwari temple on July 12.
The Dhamrai Rathajatra was brought out at 3:00pm at Dhamrai, Dhaka with participation of thousands of devotees.
Processions were also brought out in Sylhet, Chittagong, Comilla, Chandpur, Noakhali, Habiganj, Narsingdi, Faridpur, Bogra, Barisal and Shariatpur on the occasion.
Iskcon has organised nine-day-long programmes, including Kirtan, recitation from the Gita, discussions and cultural functions at its temples at Swamibagh and Wari.
Hindu devotees at the Iskcon temple believe that the Rathajatra helps promote Bengali culture and it has now become a national festival as people of different faiths take part in the procession.
Bangladesh Jatiya Hindu Chhatra Mahajote, and Jagannath Hall Shree Chaitanya Shikkha and Sangskriti Sangha have organised separate programmes on the occasion.
Our Rajshahi correspondent reports: A Rathajatra started from Ghoramara Rathbari in Rajshahi and ended at Kumarpara after parading different streets.
The Rath will be brought back to Rathbari after a week. Different programmes including discussions, kirtan, and religious functions will also be held.