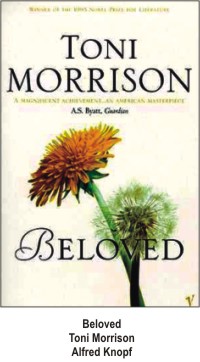 A house with a ghost! If you are thinking that's an indication of an ordinary horror story then you are gravely mistaken. Nobel laureate Toni Morrison weaves a tale of slavery, torture and despair behind a ghastly shell which shrouds the lives of a mother and a daughter at 124 Bluestone Road, outside Cincinnati, Ohio.
The resident ghost is violent towards the inhabitants of the house, breaking items, throwing things and ruining food. Afraid of the ghost's violence, the two sons of the family have left their mother, Sethe, and their sister Denver behind. Surprisingly, it is disclosed later that this ghost is none other than the spirit of Denver's older sister who died before she was two and whose tombstone was a payment for the sexual favours that Sethe provided the stone mason.
Left alone by themselves, Denver finds comfort in her friendship with her ghost sister but when Paul D, a former slave and companion of Sethe, enters the lonely life of Sethe he is frightened of the ghost at first and then later on violently chases the ghost out of the house. Having found a dependable person, Sethe is comforted but Denver is left friendless once again. The story takes an eerie turn when Sethe, Paul and Denver after returning from a carnival find a fully-clothed, wet stranger sitting on a tree stump outside their house. Beloved, the stranger calls herself. And over the next few days the weird habits of Beloved unfold across the pages.
Beloved is obsessed about Sethe and is jealous about sharing Sethe with anybody. She follows Sethe around and she wants Sethe to tell her stories. Paul does not trust Beloved and Denver is not happy with her either.
While keeping the story alive with its haunting plot, Morrison tells the story of slaves and plantation workers and the mistreatments that every slave ever faces in a harsh world of arrogant masters. These painful situations are introduced through sporadic infusions of memory in the active plot of the novel. The past achieves a near to perfect picture as it is blended with the present and in it Morrison discloses her compassionate messages. She says that circumstances must be judged, not the person who was merely a victim of them. She professes that everyone has the capacity to be civilised, and it is the cruelty of others that turns people uncivilised. Moreover, she confirms, under every dark skin, there is not a jungle. Morrison depicts through Paul's condition how a slave man finds life to be dead because a rooster has more freedom than he has. She portrays through the states of women how sexuality is a foreplay to power.
At times, in Morrison's mystical prose Beloved stands for a gloomy memory or perhaps a sin that is better left alone and repented for than to be carried along forever; Beloved stands for obsession, cruelty and the frailties of human nature that ultimately lead to madness and destruction of a person's soul.
Some of the chapters are crystal clear in narration and some of them are pseudo-spiritual ramblings or self-conversations that might be a little bothersome to read. But for this reviewer's part, untangling the knots in Morrison's prose is worth the effort.
Say, for instance, what will Denver and Paul do about the strange Beloved? How does Sethe view Beloved's infatuation for her? Above all, who is Beloved? Did the ghost of Sethe's dead daughter return to claim its mother? And what is the mystery lurking behind the death of Sethe's baby in the first place? For straight answers to those twisted questions, this book keeps you on a run. So if you are ready to run, grab the book as soon as you see it.
Efadul Huq reviews books regularly.