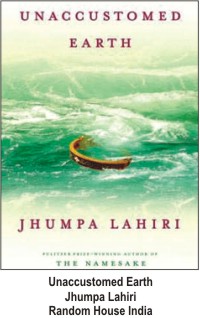 The writer of Interpreter of Maladies and The Namesake has yet produced another book to satiate her readers' thirst. Unaccustomed Earth, for that is the book, is also a collection of short stories all of which are about second generation immigrant experiences. Her first book, Interpreter of Maladies, was also mainly based on immigrant experiences and the next book, The Namesake, is about an Indian Bengali family living in the United States and going back and forth from India to the US. Lahiri was honoured with numerous awards for her writings.
Jhumpa Lahiri has acquired a specific style of writing which may be considered as unique. Her environment has always been around the Bengali-American experience. There is a problem here too. For her Bengalis mean Indian Hindus as she puts in her recent book through one of her characters:
"My mother was wearing the red and white bangles unique to Bengali married women, and a common Tangail sari, and had a thick stem of vermillion powder in the center parting of her hair............."
The fact that there is a huge Bengali population who are not Hindus but are Muslims somehow escapes her.
Apart from that, her new book has an easy flow which attracts readers. All the stories have some very interesting and intriguing facts in them. The element of assimilation has been always a keen subject for her. Another aspect of her writing which makes her book interesting is her point of view. That means she essentially writes from the points of view of different characters. In one it is a mother's or a woman's point of view; in another she writes as a young boy who has lost his mother. She knows this variety will make her readers help avoid the monotonous tone that might otherwise leave her stories just as a repetition of her previous writings. In the last story of the book, 'Going Ashore', Lahiri has used several voices.
The collection of eight short stories gives an insight to the immigrant consciousness once again. The first story is Ruma's unwillingness to accept her widower father who comes to spend a holiday with her family. As she is married and has her own life, she thinks that it would be a burden to have an elderly person in the house. The next story is about Pranab Chakrabarti, whom this narrator's parents befriend in Cambridge. People can sometimes be intimate with people they have just met and be heartbroken when they move away. This story is from a child's point of view and about a clandestine romance that blossomed between Pranab and his boudi. But it is of a kind that never means to cause any harm to anyone. In the other three stories, relationships are drawn with expertise that is more than life-like. Both the positive and negative sides of the Bengali and non-Bengali marriages or inter-racial marriages are pointed out with utter accuracy. What this reviewer finds most interesting about Lahiri's writing is that she is bold enough to show some events that would normally be left out as unpleasant. The aged couple do have fondness for each other through accepting their shortcomings. In a 'Choice of Accommodation', Amit brings his wife Megan to the wedding of an old flame where they end up making love in a dormitory he had stayed in as a teenager. While depicting the love making of a quarrelling couple, Ms Lahiri gives a description of a mother's body, a lover's body:
"He placed his hand on her hips, over the stretch marks that were like inlaid streaks of mother of pearl that would never fade, whose brilliance spoke only for the body's decay. He put his mouth to one of her breasts, flattened and drained after nursing two children..........."
The stories evoke the predicament of Bengali students' assimilation in the US as in all her writings. Even though Amit was born in Massachusetts, he had always been complimented for his English and his accent. In 'Only Goodness', Sudha's parents fail to acknowledge their son's alcoholism, a trait most Bengalis have. Sudha is exasperated by her parents' lack of emotion in the relationship, even though they have spent all their life together.
The book is divided into two parts. The author may have had felt that the last three stories are loosely connected to one another. The first story of this part had appeared in The New Yorker a while ago. These two characters meet one another as children and again meet in a foreign land just before Hema is returning home to her wedding. Kaushik finds his father's second marriage disturbing, but his placid behavior does not give it away. It is only when his two step-sisters fiddle around with his mother's photos that he is appalled and drives away from home and across the border.
In the third and last story, Hema and Kaushik meet and spend a week in a sweltering relationship that does not have any promise of a future. They are only linked by some threads from their past. Kaushik's not being anywhere describes the immigrant way of life. Lahiri shows that to belong to two cultures is in fact not belonging anywhere. It is like one having only a few possessions which can be packed and left for a new destination on short notice. Kaushik does leave, eventually towards finality.
Jackie Kabir is a teacher and critic.