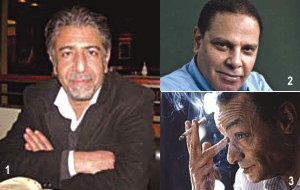 I looked around at the tents, followed directions and found rich veins of English books translated from Arabic literature beneath the surface of the main gala: talks, discussions, debates and workshops. All of it was to encourage "collaboration between UK and Arab publishers and translators. Current trends in contemporary Arabic literature will be introduced to a UK audience by showcasing some of the best writers and writing from the Arabic world." Approximately 40 leading writers, commentators and industry professionals from the region were being showcased within these bland stalls: Bahaa Taher, Alaa Al Aswany, Faisal Darraj, Hisham Matar, Raja Alsanea, Jean Makdisi (sister of the late Edward Said) and Amjad Nasser. They would take part in these events each night, providing a visible platform of new voices to the publishing audience. Since I couldn't spare the time to attend them in the days ahead, I went for a final walk on the tired carpets that would give me a feel for the cut and thrust of emerging Saracen literature.
A white map had been drawn on the floor, divided by walkways, papering over the blood, toil, sweat, lies and grief of the Arabian literary consciousness imprisoned in their world between a cruel foe, corrupt governance and a cynical world order. These Arab voices were attempting to find new ways of de-throning the Western established triumvirate. There were some publishing houses, sincere and officious: Kalima, Books of Arabia and Cairo Publishing. Writers Ibrahim Al Kouni of Libya and Huda Al Shawa of Kuwait had been named for the 2008 Sheikh Zayed Book Award; Al Kouni for his work A Call Not Too Far in the Literature category, Al Shawa for her novel Birds Journey to the Qaf Mountain for Children's Literature.
The Sheikh Zayed Book Award was conferred by the Abu Dhabi Authority for Culture and Heritage, bestowed in recognition of significant contributions to Arabic culture and to help foster scholarship and creative development in Arabic culture. I wondered how a magical, semi-radical book like A Call Not Too Far was being accorded an official prize. Al Kouni is Libyan (born in 'the Great Desert' as he calls it) and portrays the desert that resides in all of us. I noticed that there appeared to be many official Arab stalls. No, actually they were all official stalls set up by Arab governments. Was this the same as the Al Jazeera phenomenon, I wondered, where the Grand Emir Tamim of Qatar proudly hosts a television channel that provokes almost 400 complaints annually from his fellow Arab/Muslim rulers alone?
Perhaps, dancing with the devil kept the latter at bay. To allow your adversaries to publish would keep one in control of the most vituperative critics. Perhaps Arab regimes thought that it was better for these books to be published and released through official channels rather then let a groundswell of opposition build up and reach pressure cooker levels. Print with us and be a part of us? Birds Journey to Qaf Mountain is the story of animals complaining of human injustice in the letters of the Asafa Brothers. It is based on a 12th century Persian book of poems by Farid ud-Din Attar where a journey by a group of 30 birds is an allegory of a Sufi master leading his pupils to enlightenment. Though written as a children's tale, the book's central theme follows the same birds, symbolising a journey of self- awareness that clearly few rulers of the Arab world are prepared to make. It appears that despite censorship, low levels of literacy and high levels of prejudice amongst the fully Western-dominated industry, there was a very potent mix of Arabian talent, political cause and literary tradition which was resulting into what the Guardian described as "One Thousand and One Delights" at the book fair.
I picked through the Arab literary buffet, aware that I could not buy but only scan in limited time, like a tourist double parked to see the Mona Lisa. My eye ran over sentences and pages. The common subject seemed to be about societies in crises, generations born and raised up in bleak neglect. The single largest issue is Palestine, the tragedy addressed directly and indirectly, through every literary device ranging from prose to rhyme to allegory. Its aftereffects is the cancer of their lives, the death in their family, a rape of their honour that is dealt daily by world leaders as a political agenda rather then the living crime that it truly is. Here was Ahmed Alaidy, Huda Barakat, and even the grand old man of Nobel Prize winning fame, Naguib Mahfouz, writing of it, alluding to it. Bracketing Naguib were others no less well-known in the Arab world: Ilyas Khouri, Hanan al-Shaykh, Salwa Bakr, Ibrahim al-Koni, (The Bleeding of the Stone), Adoni Al-Tayeb Saleh (Season of Migration to the North) and of course, the exemplary, oft-in-exile, existential writer Mourid Barghouti (I Saw Ramallah). There was also Yousef al-Aqeed (The Rivals Divide), Yalo Bahaa Taher (Sunset Oasis), Khaled Khalifa (In Praise of Hate), Ahmad Alaidi (Being Abbas Al Abd), Rashed al-Daif (The German Comes to his Senses) plus Rajaa Alsanea's much lighter fare Girls of Riyadh.
Even as Arab existence is in turmoil and crises, their young dispersed in a global diaspora in urban communities or refugee camps, their governments dominated by Western interest groups, in contrast their literature is increasingly vibrant and varied. Our liberation war gave birth during the nine months of war to some of our most popular and heartfelt songs and drama; so too the Arabian dispossession of their land and identity by Western powers has resulted in thriving narratives of literary heroism. Magical writing was born on the wings of the beast that transported the Prophet (pbuh) to Jerusalem, earlier than Marquez's forays into Macondo, the fictional village of his stories. O yea of much faith, reflect on the Quran's didactic style whose content is not confined to the revelation alone but often moves from a one-way dialogue between God and the Prophet (pbuh) to verses on legislation, legends and their relationship to laity. Contemporary writers like Huda Barakat, Ilyas Khouri, Hanan al-Shaikh and Salwa Bakr, inspired by the master Naguib, combine political and social criticism with indigenous genres, many of which are proving to be runaway successes in their countries. But would this change the actions of the primary audience, the Arabs themselves, or would it prove to be an exceptional effort, a literary intifada, which would be feted, printed, and subsequently deep-shelved?
Difficult to tell, but it was time to go, and why not go through Edgware Road?
I took the tube from Earls Court to Edgware Road, near Paddington. This is home to London's Arabs, where the majority out of the half million in the UK from Egypt, Morocco, Palestine, Yemen, Lebanon, the Gulf States and Iraq have settled. They do not appear to have done too badly, wheeling and dealing around the W2 and W1 postcodes - particularly around Edgware Road and the Borough of Westminster. All along the wide and busy road were spacious restaurants, shops and travel agencies. I sat outdoors at an Iranian restaurant off Marylebone, near to Chiltern Street, with an apple flavoured shi sha (hookah). I asked for Arab coffee or shami, and was informed that a cappuccino would be the better alternative. There were some leaflets for Medical Aid to Palestine and the rare homeless sitting at the bus shelter. My four companions at the next table were engrossed in their shi sha and in reading the daily Akbar al Khaleej from Algeria and the enshrined Al Ahram from Egypt. Two others read the Al-haqaeq and Al-ittihad newspapers, published from London. I asked them whether the papers covered the book fair. One smiled and said yes, and drew a blank with the other three.
For the majority of the well-to-do Arab Diaspora, this literature in its raw form would not be personally relevant or politically palatable. But they did not disclaim it totally either, aware that the murmurings of this tsunami were real and represented a sea change in the topics and techniques of Arab writing. Meanwhile, the ills that these writers speak of are also real to Everyman, for persecution and flight from it exists at all levels and in every society and an artistic response must be appreciated, nay coveted, in the absence of resolution. In doing this, in being able to connect to the global post-capitalist ennui, while addressing the core issues of their cruel domestic destiny, the Saracenic invasion has truly landed in Earls Court full of craft and genius.
Khalid ibn al Walid, the legendary Muslim general, known under the nom de guerre of Sayf-ullah al-Maslul (The Drawn Sword of God) would not have read them in the midst of his tireless campaign, but he would certainly have admired them and recognised them as his latter-day soldiers of truth.
SI Ahmed in a British-Bangladeshi who lives and works in London.