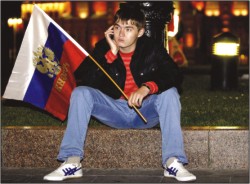 Russian newspapers lamented Friday "the end of the fairytale" after their national team crashed out of Euro 2008 with a 3-0 defeat to Spain.
"The time for miracles passed very quickly," commented the official Rossiiskaya Gazeta.
"Last night we saw the end of a beautiful fairytale titled 'the Russian national team's participation in Euro 2008,'" it noted.
The Russian team, following their surprise win over Holland in the quarterfinals, found themselves quickly back down to earth in their semifinal matchup against Spain in Vienna on Thursday, never posing a serious challenge to the Spaniards who shut them out 3-0.
"The European fairytale is over for the Russian national team," echoed the popular daily Tvoi Den.
But it called on Russian football fans not to lose hope.
"There is nothing to be ashamed of by the performance of our lads in the championship. They gave us many reasons to be proud of them," it concluded.
"One wants to hope that in two years at the World Cup that nobody will be able to stop us.... We're ready to wait, Guus," the newspaper wrote, referring to the team's Dutch coach, Guus Hiddink.
The sports daily Sovetski Sport was also optimistic, writing that the Russian national team has "everything before it."
"They didn't make the finals, but they gave Russia faith in Russian football," wrote the newspaper.