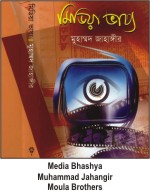 The media are doing wonders in today's world of a continuous flow of breaking news, views and photographs. People these days do not even think of spending a day without being in touch with the media. Frankly, people globally have become very much dependent on the media for the daily developments around them. Politics, economy, lifestyle, human rights, crime and even traffic jams all these matter so much in people's lives that they have to be in touch with the media all the time.
The media, as everybody knows, also work as the fourth estate in every country. Democracy works better and society prospers where the media operate freely. On the other hand, the failure of the media to provide diverse viewpoints and unbiased information also undermines the strength of democracy in any country. Therefore, the media do not only have to free, they should also operate in a way so that the masses do not lose faith in them.
Against such a backdrop, Muhammad Jahangir has tried to place all this in context. Media Bhashya is a collection of 38 op-ed articles mostly published earlier in the Dhaka-based Bengali daily Prothom Alo. The writer says his articles on media-related issues are his attempt to share his opinions with others. Jahangir divides his newspaper articles into six categories: journalism, television, radio, cinema, media personalities and others.
In the first section, Jahangir tries to explain various aspects of journalism in Bangladesh. The articles that were written after 11 January 2007 detail out the ways in which the caretaker government was trying to prevent the media from carrying out their duty in the proper manner. A lot of restrictions occurred. The writer explains how these restrictions would actually go against the objective of the government.
The second section is all about television in Bangladesh. There was a time when this medium seemed to inaugurate a media revolution in Bangladesh. But as it progressed, many weaknesses were noted by the audience as well as media experts. This book contains about fourteen of Jahangir's articles on the subject.
The writer comes up with one article on the newly emerged FM radio. He says FM radios have become the mode of new entertainment for the audience, especially in Dhaka. That was what motivated him into writing the article. These radio stations are indeed a way of new entertainment for the audience. Initially, they were entertaining, but with every passing day, there is increasing scope to survey their performance, both in capacity and quality. Where are these radios going?
Jahangir has one piece on films in section four. He suggests that Bangladeshi filmmakers should make some movies on diasporic themes. Jahangir makes sense when he urges filmmakers to be more creative because Bangladesh is falling behind in filmmaking. The days of regular commercial films are gone. A few filmmakers, who call them makers of short films, are trying, but the number of movies is so little that they can hardly make any impact. Since the Bangladeshi audience is not welcoming what commercial filmmakers are producing, they should go for innovation. Different stories as the writer suggests.
Jahangir writes four articles on eminent journalists who have passed away. Waheedul Haque, Aflatun, Hedayet Hossain Morshed and artist Kalam Mahmud. Dedicating a section for these people was very thoughtful on Jahangir's part.
The last section of Media Bhashya deals with a few aspects of the Bangladesh media. One article is quite noteworthy: Mass Media: Quite an Achievement. Yes, the mass media in this country have had many success stories against the social backdrop. The media have campaigned for many good causes. Besides, the media have played pivotal roles during a number of crises in Bangladesh. From the war of liberation through periods of military rule to the latest state of emergency, the media have shouldered great social responsibility.
Jahangir also needs to mull on whether he should write a few articles on media-related training in Bangladesh. Newspapers in Bangladesh, as experience suggests, have hardly any editorial guidelines. That would be another aspect to write about.
The Bangladesh media have come a long way and yet have a long way to go. Analysts like Jahangir should make sure they do not give up talking about the performance of the media. In many countries, there are media-watching organisations. Bangladesh has none. The writer deserves a thank you for publishing his articles in book form.
Ekram Kabir is a journalist and critic.