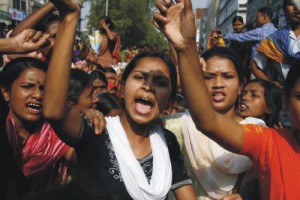 The garment industry has become the main export sector and a major source of foreign exchange in Bangladesh over the years. It currently exports about $5 billion worth of products each year giving employment to 3 million workers of which 90% are women.
It is a discernible fact that it is, in a sense, promoting women's empowerment because they are the prime contributors to its rapid development and continual expansion. Since, Bangladesh is an underdeveloped country and its resources are limited, the most optimum solution to provide for its citizens with favourable subsistence and moderate standard of living is to utilize its most valuable asset--- manpower. To put the huge population to use by employing them in large industrialized sectors would be very useful. This is what the garment sector is doing.
But at the same time we cannot overlook some of the most vital drawbacks that the garment industries have brought along with them. Most of these industries are in fact multinational corporations and their crucial objective is to expand production and diversify their profits in whatever means they need to adopt. In the process of business expansion, they are cutting off the very hands of their profit generator---depriving their labour force. The same product, if made in their own country, would have cost them a lot more. Because in a developed country the cost of living is quite high. As a result, production costs including labour wages are much higher and also environmental issues will have to be considered. Our country requires huge provisions of funds including job facilitations and improvisation of machinery. These are offered by these multinational garment companies. So, these negative effects are somewhat left without necessary reflection.
The workers have very little or no rights to increase their wage or to get holiday benefits. The menial and back-breaking hours are not at all relaxed because if this is done then production will decrease and so would profit. Alienation as well as health deterioration leads to fatigue among workers and they are compelled to drop out. If we do not look into these matters, then our garment sector will come to a standstill.
The garment entrepreneurs must be compassionate towards their labour force. Only then can the sector flourish as a job provider and foreign currency earner.