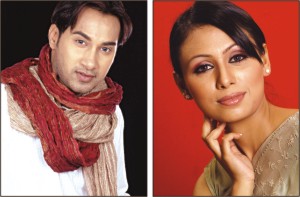 The premiere of Brishti Tomaye Dilam, a one-hour TV play, was held at the Bengal Gallery, Dhanmondi recently. Written and directed by Debashish Biswas, the play is an adaptation of a story by Indian filmmaker Rituparno Ghosh.
The plot revolves around Amit and Nandini. They are in love but due to unfortunate events they have to part ways. Eventually, Nandini is married off to an affluent man and Amit goes on to finish his education. The plot takes a complicated turn, when one afternoon, Amit goes to Nandini to ask for financial assistance for his sister's marriage. Meeting after years, Amit is not able to admit his actual reason for the visit, and neither is Nandini able to disclose her present state of life. The story proceeds on as the two relive their memories and share their dreams and happy moments.
The soon to be aired play features Fazlur Rahman Babu, Shajal and Arifa Hossain Tania in the lead roles.