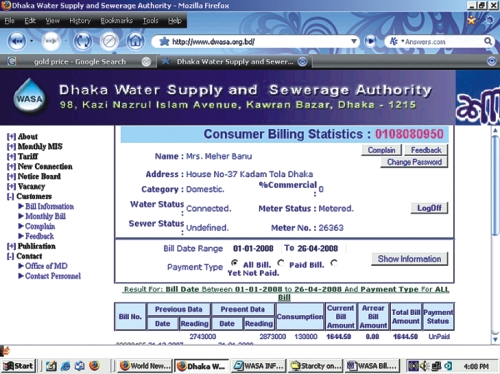 Dhaka Water and Sewerage Authority's (Wasa) new online billing system has failed to receive encouraging response from Dhaka's water consumers, sources said.
Introduced in February, the system gives Wasa subscribers access to their monthly water bills though the organisation's official website, www.dwasa.org.bd. Viewers are also privileged to file gripes regarding anomalies in the bills.
However, Wasa officials said there has been little difference in the organisation's billing and payment system since the inauguration of the online system.
"Since majority of the city dwellers do not have access to the Internet, it would be pointless to expect good results so early," said Raihanul Abedin, Managing Director of Wasa.
Besides, majority of Dhaka's water consumers are still unaware of the Wasa's new online billing system. Many among those who came to know about the new system, appear to be clueless on how to get their billing information.
"I read in a newspaper that Wasa has launched an online billing system, but I could not find the website from where I can collect my payment history," said Zafar Imam, a service holder at Mogbazar.
A good number of city dwellers have wrong perceptions about the new system.
"When I heard of it [online billing system] I figured that it is a new scheme to pay our bills online--something like online banking. The idea of getting to pay my bills online got me overjoyed," said Monjur Morshed, a lawyer residing in Farmgate area.
"However, when I actually tried to pay my bills through the website, I came to know that I can only see my current bills and past payment history," he said.
"Although it is not what I expected, I believe this new scheme will help remove anomalies and disputes over water bills, and be useful to both Wasa and its subscribers," he added.
According to sources at Wasa's computer department, the organisation has been receiving calls from curious subscribers asking how to get access to individual billing information. However, the overall response has been pretty disappointing.
"You have to consider the fact that around eighty percent of city dwellers do not have access to Internet, and not everyone needs to use the Internet to view their water bills," said an official concerned.
"We are working to improve the scheme and add new features so that Wasa subscribers will get more benefits," he said.
An appropriate publicity campaign should be launched to popularise it, he observed.
According to sources, city dwellers will soon be able to pay their bills also through the Internet.
"Once the governmental banks that collect Wasa's bill payments are integrated with the online billing system of Dhaka Wasa, our customers will be able to pay their bills online," another official said adding that the state-run banks are set to introduce online banking by the end of 2009.
Previously, Wasa used to maintain their billing information in manual ledger books. Manual keeping of payment records was quite difficult and because of that many subscribers did not even receive their bills regularly, sources said.
"There were times when a subscriber would receive bills in every three month," said an official adding that many defaulting subscribers tend to get away by not paying bills because of the manual system.
Wasa is exploring ways to draw more people into using the online services to make the scheme a success, said Raihanul Abedin, Managing Director of Wasa.