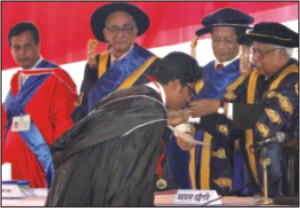 President Iajuddin Ahmed yesterday underscored the need for developing knowledge and skill to international standards to sustain in this age of globalisation and exploit the country's growth potential.
Describing Bangladesh as a country of immense prospects, he said it has huge human resource, fertile farmland and potential natural resources.
"Now we need the best use of existing resources in a planned way to make the country prosperous," he said while addressing the first convocation of Chittagong University of Engineering and Technology (Cuet) at Raozan.
Education Adviser Dr Hosain Zillur Rahman spoke as the special guest and former chief adviser of the caretaker government Justice Muhammad Habibur Rahman as the convocation speaker. Cuet Vice-Chancellor Dr Shyamal Kanti Biswas also spoke.
The president noted that as engineers are the architects of development, the roadmap of development comes out from their talents, souls and creative thinking. "Therefore, there must be clear reflection of foresight in their thinking, spirit and mind," he said.
Referring to development plans for the country, Iajuddin said it has to be prepared keeping in mind what sorts of development would take place or what level the country would reach in the year 2050 or 2100. The president, also Chancellor of the University, drew attention of engineers to attach importance to the issues of climate change and global warming in preparing their development plans. "We have to go forward keeping in mind the comprehensive plan for making our country into a mid-level one getting out of ill-circle of poverty within next one decade," he said. University is the best institute for building nation where all the ways towards flourishing talents are open. The university would not only provide the literal education to the students but also would open the new doors so that the students could attach themselves with world-standard education, research works and creative activities, the president added. He underscored the need for maintaining friendly relations between teachers and students to create sound environment for education at the universities.
"The teachers have to be affectionate and act like the guardians of the students," said the president, also a former university teacher.
He hoped that Cuet would continue its all-out efforts to implement the holy purpose of education. The president called upon students to uphold the dignity of the degree they were conferred upon through their service, honesty, integrity and patriotism keeping in mind that the people have a lot of contribution to attaining their degrees. He welcomed the initiatives of Cuet to open new departments, including Petroleum and Natural Gas Engineering and Mining Engineering, at the university in keeping pace with the new era of technology.