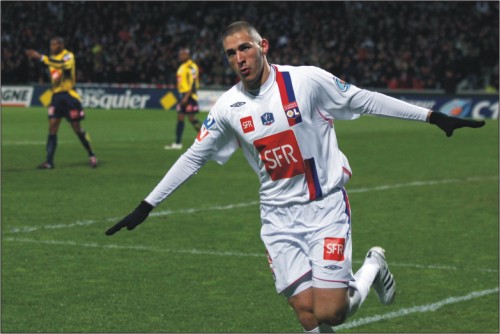 Lyon and Paris Saint Germain shot into the quarterfinals of the French Cup on Tuesday night with two-goal heroes Karim Benzema and Loris Arnaud respectively.
Benzema score twice in Lyon's 2-1 home victory over Sochaux and Arnaud also found the net on two occasions in their earlier 2-1 victory over Bastia at the Parc des Princes.
Arnaud said after the match the victory, by largely reserve players more used to third division football, was a testament to confidence placed on them by coach Paul Le Guen.
"The coach gave us the chance tonight and we did everything we could to show him we would not let him down. He could count on us for the first division too," Arnaud said.
When asked if he might play in the next match for the first team, Arnaud said: "Why not? It's true it was a great gift and it was such a pleasure that the coach had confidence in us for the match."
Le Guen said for his part: "I really think these players can get up to the next level with more confidence and experience. I'm happy we went through but there is still some way to go."
As for Lyon's game, Benzema score his 28th and 29th goals of the season all competitions combined.
It was a dramatic end to the match however. Benzema had opened the scoring in the 56th minute with his left foot but it was not until the few remaining seconds of the match that another goal was scored.
Kandia Traore equalised in the 90th minute but Benzema shot home the winner moments later following good work from Abdul Kader Keita to put Lyon into the last eight of the competition.
In other Tuesday night matches, Dijon beat Tours 3-1 and Sedan notched up a 2-0 victory over Angers.