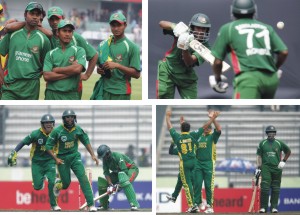 The Warid Cricket Series 2008 between South Africa and Bangladesh of 2 Test matches and 3 ODIs has just concluded. The performance of the Bangladesh team has been dismal to say the least. They have been, to the utter disappointment of Bangladeshi fans at home and abroad, comprehensively defeated in both versions of the game. To be blunt, they have been literarily whitewashed.
Nobody expected Bangladesh, the youngest Test playing nation in the world, to win a Test match against a strong team like South Africa which is at the moment possibly second to only Australia in ICC ranking. What every body expected was that Bangladesh, given their reasonably extended exposure in world cricket, excellent performance in the last world cup, and having the advantage of playing in home ground, would be able to at least play out 4 days of a 5-day Test match and clinch a victory in at least one of the 3 ODIs.
That did not happen. In neither of the Test matches could they barely step into the fourth day before surrendering defeat to the visitors. The scenario of the ODIs was no better. In all the three ODIs, they suffered comprehensive defeat, the first one by 9 wickets, the second one by 7 wickets, and the third one as well by 7 wickets scoring only 178, 173, and 143 runs respectively. Lest we forget, on all the three occasions, the home team won the toss, and, as expected, decided to bat first.
True, Bangladesh is a young team. Its oldest player is only 26 years old. But one must not forget that they have by this time played more than one hundred ODIs. If we talk about world exposure, I think they have had enough to be able to put up a good fight with any team. If they could clinch a place in the super eight by defeating India and then win a comprehensive victory against South Africa in the second round of the last world cup competition, is it unfair for the local fans to expect them and that also in their own home ground to put up a much better performance than what they have displayed? Certainly not.
True, there have been a number of controversial decisions from the umpires, that too from the local umpires, most of which unfortunately went against the Bangladesh team. Probably the Bangladeshi umpires were more eager in proving themselves neutral than anything else. For minnows like Bangladesh, such decisions do matter. But that cannot be an excuse for not performing up to their talent and capability.
Let us see what went wrong with the Bangladeshi tigers. They say Bangladesh is a team full of vibrant and talented boys. I do not disagree with them. Frankly speaking, I am a great fan and admirer of the Bangladesh team simply because they are young, talented, and courageous. Look at the boys the team is now comprised of. They are all between 20 and 26 years of age. It has players like Ashraful, Aftab, Shariar, Sakib, Tamim, Mortaza, Sadat, Razzak, Nazimuddin, Junaid and so many others that the team can genuinely boast of. Each of them is young, talented, and courageous. They can flare up any moment. They have shots in their bats. They have the essence in their bowling. They have agility in their fielding.
But that is not enough. Patience, technique, intelligence, sense of responsibility, and commitment are all as important as talent and courage in any good cricketer. Our boys seem to be miserably lacking in most of these areas. Patience and sense of responsibility are the words that seem to be totally missing from their dictionary.
Take the case of skipper Ashraful. He is certainly the most talented batsman in the team. He has the technique. He has all the shots in his bat. He has in the past proved more than once that on a particular day he could be as scintillating a batsman as any other world class batsman in the modern game.
Yet, look at his performance, more importantly his approach, in the just concluded series against South Africa. His total score in the two Test matches was 62.and in the three ODIs only 17. Take the case of second ODI. Opener Tamim who played a splendid innings of 82 in the first ODI got out cheaply in the very first over of the second ODI, going for a cut shot too close to his body. Then came Ashraful, the skipper and the best batsman of the team. In the very fourth ball of the second over, before even feeling the pitch or pace of the wicket he went for a hook to be caught out for duck by the only fielder placed in that area. The fact that even a superb fifth wicket partnership of 115 between Rakibul Hasan and Shakib al Hasan could not take his team to the 200 mark (173 all out) tells the rest of the story.
Take the case of third ODI. Opener Tamim got out putting only 8 runs on the board on a controversial caught behind decision. Camera replay showed that the ball had actually touched his pad, not his bat. Nazimuddin, the young debutant of the series came in as number three batsman and showed some good batting but that was to be short lived. Scoring 20 runs in 30 balls he probably thought it was enough. Coming down the wicket he went for a wild miscued shot that was enough to show him the way back to the pavilion. Then came Ashraful, and he followed suit. In the very third or fourth ball he went for a similar hook shot which got him out in the second ODI. Luckily, this time he survived -- but not for long. With only 9 runs on the board, he went for a lofty on drive to find himself caught at mid on. That was enough to put the seal on the game.
Take the case of Shariar Nafees, another talented batsman of the Bangladesh team, playing the third ODI as an opener. In the very first over of his turn he went for a big shot of a ball way outside the off stump which could have been even called wide. Luckily the ball did not find the edge of his bat and he survived at least on that occasion.
Now, how do you explain these happenings and whom do you blame for such terrible performance of the Bangladesh team except the players themselves? They have batted not only poorly but also in a highly insensible and irresponsible manner. It is high time they get their mindset right.
I have a feeling that our batsmen want to score from every ball and that also in boundaries. That is not possible even for a superstar. They ought to learn which ball to play for runs, which ball to defend and which ball to let go. More importantly, they must learn how to pace an innings and play the whole quota. These are the basics which I am sure their coach has told them time and again. It is now up to them to take them to heart and practice rigorously.
Finally I have a few words of advice for Ashraful. He should, if need be, step down from captaincy, fully concentrate on his batting, He has to first learn how to consistently bat 10 to 15 overs without taking any risk whatsoever, never mind what runs he scores in these overs. He must know that he has shots, talent, and technique. What he lacks is temperament and application. He must set his mindset right sooner rather than later. The cricket fans want to see the future of Bangladesh cricket through him. If he can lead his team by example, surely the others will follow.
Capt. Husain Imam is a freelance contributor to The Daily Star.