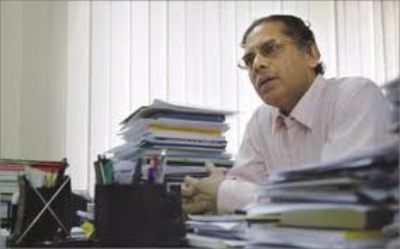 Dr. Mustafizur Rahman, Executive Director, CPD, talks to A.B.M. Shamsud Doza of The Daily Star about the possible impact on the economy of Bangladesh if the US withdraws GSP facilities.
The Daily Star (TDS): It is reported that our main export product to US market, garments, is not included in the GSP facilities. Experts have been saying that if the US cancels our GSP facilities, it will have spillover effect on other market facilities we enjoy in the US and European markets. What is your take on it? And if it is so, would you like to explain it with some examples?
Mustafizur Rahman (MR): It is true that out of the total export of about $5bn from Bangladesh to the USA in FY2012 only an insignificant proportion, less than half a percentage, received duty-free market access under the current US GSP scheme. As is known, RMG export, which constitutes more than 90% of Bangladesh's exports to the US, is not eligible for preferential treatment under the US-GSP scheme. Neither does Bangladesh receive preferential treatment under any other bilateral preferential initiative of the US such as the AGOA or the CBI. However, any cancellation or suspension of the GSP will have adverse implications for Bangladesh several reasons.
First, this will transmit a negative signal about Bangladesh not being a reliable sourcing country. This could undermine the confidence of US importers of apparels from Bangladesh even though apparels enter the US market duty-paid. Cancellation of US-GSP will likely increase the pressure exerted on importers by US consumer groups which have in the past expressed their concern as regards workplace safely and labour rights in Bangladesh's export-oriented industries.
Second, US investors who are exploring investment opportunities in Bangladesh will feel discouraged if any sanctions are enforced, particularly if such investments are oriented towards the US-market.
Third, the US-GSP hearing has already alerted other GSP donor countries who are closely following the developments in this regard. Any sanction by the US will likely have a domino effect with adverse consequences. The recently held debate in the EU parliament is a case in point. It may be noted that unlike the US-GSP scheme, preferential schemes such as the EBA and Canadian GSP are of high importance to Bangladesh, particularly for the RMG sector.
Fourth, whilst at the moment Bangladesh's market access under the US-GSP scheme is rather insignificant, it ought to be noted that the number of items which are offered duty-free access under the scheme is quite large. If Bangladesh is able to build the supply side capacity and is able to diversify its exports, the scheme's importance will increase significantly in the medium term. Any sanction could thus be potentially more damaging for Bangladesh than would appear at first glance. Lastly, and this is important to note, any sanction will seriously negate the possibility of a bill to be floated in the US Congress that would allow duty-free entry of Bangladesh's apparels in the US market.
It will thus be in our interest to do our best, both on the home front and during the upcoming GSP hearing, so that Bangladesh's eligibility under the US-GSP scheme is maintained and continued.
TDS: Do you find our labour standards satisfactory?
MR: In recent times Bangladesh's track record, particularly in ensuring labour and trade union rights and work place safety, has come under close scrutiny of the US and other major trading partners and major buyers. Recent incidences of fire and the consequent deaths have once again drawn attention to Bangladesh's export-oriented industry's performance in view of the above. To be true, elimination of child labour from Bangladesh's export oriented RMG sector, enactment of Bangladesh Labour Act 2006 and the revised minimum wage of 2010 and its enforcement, have been well appreciated by all concerned stakeholders. Bangladesh has also ratified 33 ILO conventions including seven of the eight core ILO conventions; Workers Welfare Councils have been constituted in majority of enterprises in the EPZs.
However, there is a need to do much more in terms of enforcing the rights of workers, which are stipulated by law, and our obligations under the conventions we have ratified. All involved government agencies will need to significantly strengthen their respective capacities to enforce compliance with building code, safety regulations, factory inspections and fire-safety; those who violate the laws must be brought to justice.
Entrepreneurs will need to take an enlightened perspective to ensure that workers are able to exercise their trade union rights at work places and are allowed to exercise the right of collective bargaining. At present, ILO and other organisations as well as some of the major buyers have programmes in place to promote decent labour practices, better compliance assurance and work place safety in the RMG sector. These will need to be further strengthened and expanded. Whilst conceding that labour rights and working conditions will need to be improved on a continuing basis, concrete time bound goal posts should be set out to ensure that progress is made in each of the above areas.
TDS: One of the most important competitive edges Bangladesh has over other countries is cheap labour. It is difficult to maintain labour standards and cheap labour edge at the same time. So, how can we solve this problem? There is also the constitutional obligation of the government to ensure labour rights.
MR: Evidently, Bangladesh's wage rates in the RMG sector are the lowest in the region. The race to the bottom in terms of wages has created a situation where wage rates cannot ensure decent living conditions for workers. Wages will need to rise in future through periodic revisions; at the same time Bangladesh's competitive edge will have to be maintained if it is to ensure and improve upon its current market share. Bangladesh will need to gradually move from the current mass-production segment of the demand curve to upmarket, to the middle, fashion and design focused, segment of the market.
There is also significant scope to enhance productivity in the RMG sector. Studies have shown that maintaining conducive and safe working environment at the enterprise level has positive implications in terms of raising productivity. Pressure should also be put on major buyers who take advantage of desperate producers through offer of low cutting and making charges. Steps will need to be explored to promote direct marketing linkages to reduce the influence of intermediaries who control the buyer-driven apparels market and take away a significant margin of the difference between retail price and what is offered to the producers. In some of Bangladesh's competing countries support provided by the state, including housing facilities for workers, allows them to improve their living standards, beyond what is offered through wage income.
There is a need to promote investment in human resource development in the RMG sector, improve fashion and design capacity at the enterprise and sectoral levels, develop the "brand Bangladesh" and strengthen forward linkages of the sector through public-private partnerships of various configurations. This is a gradual process and everyone understands that wages can't be raised significantly overnight, but we ought to strategise in the medium term in a manner that workers in the RMG sector are able to enjoy decent wages.
TDS: If Bangladesh signs the TICFA treaty with the US, our GSP facilities will sustain and our garments industry will get duty-free access to the US market. It is reported that Bangladesh is dragging its feet on the labour provisions particularly mentioned in the treaty. What do you think about this? How do you evaluate the TICFA treaty?
MR: Signing of TICFA could potentially have positive impact on US-Bangladesh bilateral relations. The US has been keen on signing TICFA and a proposal has been on the table for quite some time now. We know that Bangladesh had some concerns with regard to intellectual property rights, labour issues and continuity of the flexibilities enjoyed under various international initiatives and derogations as LDC. It is reckoned that most of these have now been addressed through successive revisions of the framework agreement.
TICFA is a platform which will allow Bangladesh and US to have regular consultations on issues of mutual interest. Indeed, the US has signed similar framework agreements with a large number of developing countries. Signing of TICFA will also create a conducive environment for tabling a bill in the US Congress for duty-free access of Bangladesh's RMG sector. TICFA could also offer a buffer where various concerns of US could be discussed before these go to other platforms such as the GSP hearing. Indeed, my understanding is that not signing the TICFA has hardened US position in the context of the current US-GSP discourse.
TDS: It seems that we are lacking in economic diplomacy. How can we do better in this field?
MR: The US is an important partner of Bangladesh, and this partnership goes beyond the remit of interests concerning trade and commerce and aid and investment. As a single country, the US is by far the most important export destination of Bangladesh and a major source of remittance earnings for the country. Good relationship with US is also important for Bangladesh from the perspective of getting US support in various international fora. So maintaining good relationship with the US is in Bangladesh's own interest.
In the current world commercial diplomacy is seen to be a critically important component of overall diplomacy. Bangladesh could significantly enhance export of readymade garments to the US market if a bill is passed in the US Congress to this effect. Regrettably, for the first time over the last several years no such bill has been tabled in the US Congress. Our efforts should be directed to strengthen the Bangladesh caucus in the US Congress; we should also do more to assuage concerns of African countries in the context of any possible duty-free offer to Bangladesh and other Asia-Pacific LDCs.
Attracting FDI from the US ought to be given high priority. The US-GSP scheme, even in its current form, offers significant market access opportunities if Bangladesh is able to diversify her export basket. US investment, targeting the US market, taking advantage of US-GSP scheme, could play an important role in significantly enhancing Bangladesh's export earnings and domestic employment opportunities. Bangladesh's economic and commercial interests should be put at the centre of our bilateral partnership and diplomatic relationship with the US.