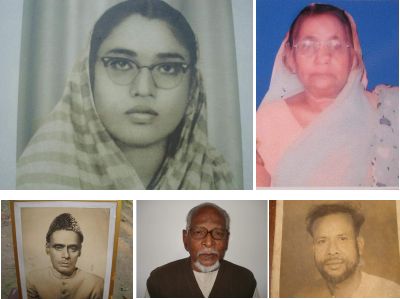 Language Movement in Nilphamari is glorified by participation of a good number of women activists at the front line.
At a period when the society was largely conservative, the women organised processions and meetings, and rendering patriotic songs and poems, inspiring people to join movement to foil conspiracy against our mother language, said local Language Movement veterans.
"In those days, women were mostly confined to houses. Still a good number of female activists, mostly students of Nilphamari Government Girls' High School, took active part in the Language Movement of 1952," recalled advocate Mahbubar Rahman Dulu, 78, a Language Movement veteran.
"The leading female activists in the Language Movement in the district included Foujia Begum, Zakia Sultana, Chhomela, Feroja, Halima, Rabeya, Saleha, Sufia and Bulu. Most of them were students of Nilphamari Government Girls' High School," he said.
On February 21 in 1952, an all out strike was observed in all educational institutions of Nilphamari, in line with the central programme in Dhaka. A big rally was held on the premises of Muslim Hostel of Nilphamari High School. Foujia Begum and Feroja Begum addressed the rally along with male student leaders.
The news of killing of Rafiq, Salam, Barkat, Jabbar, Shafiq and others on February 21 by Pakistani police in Dhaka reached Nilphamari on the night and thousands of people burst into protest in the town the next day.
Defying threat by the then non-Bengali sub-divisional officer (SDO), they continued processions and meetings in the town all day long.
Agitation triggered further when Pakistan government arrested Khairat Hossain, opposition member of the then East Pakistan provincial assembly in Dhaka, on February 22.
Pakistan government was angered as this opposition Awami Muslim League lawmaker elected from the district along with renowned political personality of the country Moulana Abdur Rashid Tarkobagish walked out from the provincial assembly in Dhaka in protest against the killing of students on February 21.
Thousands of people from all walks of life including a good number of women on February 24, 25 and 26 took to the streets and chanted slogans demanding the release of Khairat Hossain and other political prisoners. The agitators also remained vocal demanding the status of Bangla as a state language.
Police arrested local Awami Muslim League convener advocate Dabiruddin Ahmed and educationist Abu Nazem Mohammad Ali on the night of February 26.
As several other local leaders went into hiding, female activists including Jakia Sultana, Chhomela, Feroja, Halima, Saleha, and Sufia came forward to fill up the vacuum in leadership.
They arranged street corner functions and recited poems and rendered patriotic songs composed by Rabindranath Tagore, Kazi Nazrul Islam, Jibonanando Das and others to inspire people to join the movement.
People continued agitation and besieged the local police station on February 28.
The then SDO Urdu speaking Monwar Hossain threatened guardians of female activists to prevent their daughters but to no effect.
As arrest warrant was issued against Fouja Begum and Halima, they went into hiding but continued inspiring people from behind the scene. Fouja Begum, daughter of a wealthy man, continued financing for the programmes as before.
Police arrested local unit Muslim Chhatra League general secretary Shafiar Rahman and Jubo League convenor Shamsul Haque, triggering further protest from locals.
Khairat Hossain was released from Dhaka Central Jail after two years. Dabiruddin Ahmed and Abu Nazem Mohammad Ali were released after six months from Rangpur jail. Muslim Chhatra League leader Shafiar Rahman and Jubo League leader Shamsul Haque were released from Dhaka central jail after one month. Meanwhile, Shafiar Rahman appeared in the matriculation examination with special permission from the jail authority.