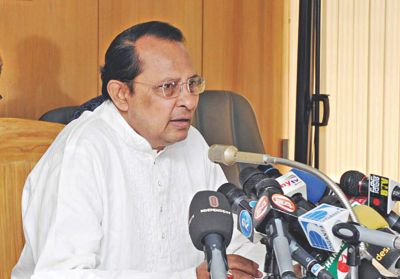 Hasanul Haq Inu
The government yesterday asked all the print and electronic media to refrain from running any motivated story that may exploit people's religious sentiments.
If any media outlet performs such practices, legal action will be taken against them, Information Minister Hasanul Haq Inu told newsmen at a press conference at the Press Information Department (PID).
The press meeting was organised against the backdrop of some newspaper's recent "motivated" campaign against the Shahbagh movement by publishing advertisements to "exploit people's religious sentiments."
The young organisers of the movement have already categorically rejected the allegations of campaigning against Islam, saying that the anti-liberation forces have chosen a path of inciting hatred against the movement by demeaning Islam and shift the blame on the protesters.
The minister said publishing, republishing or airing such stories is clearly against journalism ethics and related law.
He warned that the government will take measures to control and block any community blog or social media, if found hurting the sentiments of the people.
Earlier, the government had blocked YouTube and some other sites for their contents against Prophet Muhammad (SM) and Islam.
Mentioning Jamaat-e-Islami as the "mastermind" of the propaganda campaign, Inu said some quarters have put in their evil efforts to portray the ongoing movement for war crimes trial as a campaign against Islam.
"The trial for war crimes or demanding trail of war criminals is in no way an anti-Islamic activity; rather it's a bold step to establish justice," he noted.
The accused, said the minister, were exposed to justice for committing crimes against humanity like mass killings, rapes, arson and tortures, which are crimes that do not deserve mercy in the eyes of Islam also.
"The war crimes accused are professional politicians, not Islamic scholars or clerics, religious teachers or preachers," he mentioned.
Accusing Jamaat of war crimes and militancy, Inu said the government is examining the related laws to ban the party.
He urged all not to mix up Jamaat with any other Islamist political party or organisation as Jamaat itself confessed to involvement in war crimes.
The government, he said, is not against any other Islamist political party or organisation.
Thousands of youths started a non-stop demonstration at the Shahbagh intersection in the capital on February 5, hours after the International Crimes Tribunal-2 awarded life sentence to Jamaat Assistant Secretary General Abdul Quader Mollah for committing crimes against humanity during the Liberation War.
The protesters demanded capital punishment to all war criminals.