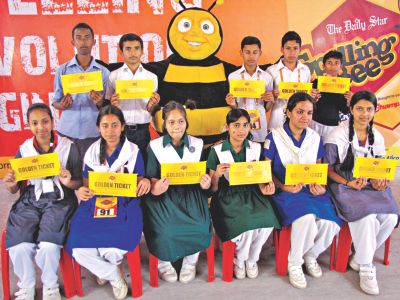 The Daily Star Spelling Bee witnessed one of its most intense and emotionally charged competitions of this year during its final zonal activation on the playground of Comilla Zilla School yesterday.
Around 118 students, divided into 3 groups, took part in the competition from all over Comilla. Hundreds of onlookers, including students, parents and teachers, cheered at the contestants to boost their confidence. The popular Spelling Bee mascot, "The Bee" was also present. Only the students who failed to spell the words correctly broke down in tears.
Eventually, 11 contestants qualified for the next round including Supriya Sharmin Tushi and Tamanna Tabassum students of classes VII and X from Govt. Laboratory High School Comilla; Rubaiyat-al-Mahim and Mohammad Mohinuddin students of classes IX and X from Comilla Zilla School; Erona Kabir Ena and Nowshin Sharmily students of Class X from Nawab Faizunnesa Govt. Girls' High School; Muntahina Islam Khan and Sariha Noor Azad students of Class IX from Our Lady Of Fatima Girls' High School; Shahriar Mahmud Bapon (Class X, Comilla Modern High School); Md. Aminul Hasan (Class VIII, Police Line High School) and Md. Mahibur Rahman (Class IX, Ibn Taimiya School and College).
Students of classes VI to X can take part in the contest by registering and playing the Spelling Bee game on champs21.com. The bulk of the qualifiers will be selected via the online game. Contestants can play the game as many times, as they want and only their best score will be considered. The top scorers in the online game will qualify for the next round.
The online round ends on February 28. The winner of the Spelling Bee gets Tk 5 lakh worth of education insurance from Metlife Alico and an all-expenses-paid trip to the USA. The second and third runners-up will get Tk 3 lakh and Tk 2 lakh worth of education insurance respectively.
For more information, log on to www.champs21.com, the first e-learning portal of Bangladesh.