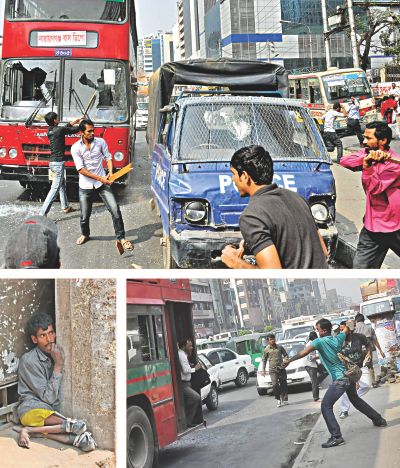 In an apparent bid to create panic among the people united on the demand for death penalty to war criminals, Jamaat-e-Islam and Islami Chhatra Shibir rampaged through different parts of the capital yesterday.
The party and its student wing resorted to violence at a time when people from all walks of life kept joining the Shahbagh movement that began on February 5, rejecting the life term given to Jamaat leader Quader Mollah.
The Jamaat-Shibir cadres carried out hit-and-run assault, exploded cocktails and fired at police, leaving at least 30 injured.
Assistant Commissioner Afroz Tutul of Dhaka Metropolitan Police (Tejgaon), Officer-in-Charge Apurba Hasan of Tejgaon Police Station and garment worker Hafiza Akhter were among the injured. The rest were pedestrians.
They received treatment at Dhaka Medical College Hospital, Samorita Hospital and other clinics in the capital.
Jamaat earlier had announced to stage a rally at South gate of Baitul Mukarram Mosque at 3:00pm yesterday but police say the party had no permission for it.
Jamaat sent several small groups of armed cadres to launch attacks to different areas of the city from 1:30pm till 2:45pm.
Each of the attacks did not last more than 10 minutes. The Jamaat-Shibir cadres then vanished in the crowd after every attack, added police and witnesses.
Sneaking out of alleys, the rioters indiscriminately damaged at least 30 vehicles, including a police van, at the city's Karwan Bazar, Panthapath, Kalabagan and Motijheel, witnesses said.
Law enforcers fired some 500 bullets and several hundred tear gas canisters and detained at least 73 Jamaat-Shibir activists in the areas.
Kalabagan Officer-in-Charge Enamul Haque told The Daily Star he found mobile phones of the arrested stored text messages in code language suggesting names of places like Karwan Bazar, Panthapath or Paltan.
Jamaat-Shibir members clashed with police also in Satkhira, Noakhali and Khulna leaving at least 65 people including 14 cops injured.
Masudur Rahman, deputy commissioner (media) of Dhaka Metropolitan Police told The Daily Star that police did not give Jamaat permission for any rally in the city as they had information that Jamaat-Shibir men might create anarchy.
Police also had information that Jamaat-Shibir might dishonour Islam and Quran to create unrest in the country exploiting people's religious sentiment, he added.
A correspondent of this newspaper was present in Paltan area from 2:00pm to 3:00pm. Police and Rapid Action Battalion were seen around Baitul Mukarram.
KARWAN BAZAR
Several groups of Jamaat-Shibir men posing as pedestrians gathered near Karwan Bazar mosque around 1:30pm. After about ten minutes, they started shooting and throwing brick chips at law enforcers.
"We were prepared; so we managed to control the situation," Deputy Commissioner Chowdhury Monjurul Kabir of Dhaka Metropolitan Police (Tejgaon) said.
Witnesses said the cadres also damaged several motorbikes near the Prothom Alo office. Being chased by police, they moved towards Sonargaon intersection.
Another gang vandalised two vehicles of private television channels NTV and RTV at Karwan Bazar. It also smashed five cars of Titas Gas office.
The rioters then vandalised the police box at Sonargaon intersection and fired several stray bullets. This was when garment worker Hafiza Akhter sustained bullet injuries.
The group firing stray bullets and blasting cocktails moved towards Bashundhara Shopping Mall at Panthapath, where three youths suffered bullet injuries.
A running battle between police and rioters took place between the shopping mall and Panthapath traffic signal.
The armed cadres were about to get trapped between two police teams -- one from Karwan bazar end and the other from Panthapath, witnesses said. At this stage, they began chanting Joy Bangla slogan like the ruling Awami League supporters.
Chowdhury Monjurul Kabir of DMP said, "We picked up 24 Jamaat-Shibir men, five of them injured."
MOTIJHEEL
In Motijheel, several hundred Jamaat-Shibir men suddenly brought out a militant procession in front of Notre Dame College around 1:30pm and blocked the road by setting fire to garment waste.
Within minutes, another group of 20 to 25 set fire to a microbus of daily Naya Diganta on its office premises. The newspaper staff doused the fire.
Abdur Razzak, an employee of the daily, said the group also threw brick chips at the office and left the place within a few minutes.
Officer-in-Charge Hayatuzzaman of Motijheel Police Station said, "In retaliation for gun shots from the cadres, we fired around 200 bullets and several tear gas canisters. They fled through lanes and bylanes in the areas."
He said 43 Jamaat-Shibir men were detained from the spot