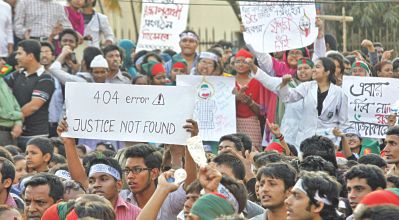 Shahbagh protesters yesterday submitted a six-point charter to the Speaker, demanding death penalty for all war criminals, including Jamaat leader Abdul Quader Mollah, and revocation of the state's power to grant them amnesty.
A five-member delegation of Bloggers and Online Activist Network that initiated the protest met Speaker Abdul Hamid at his office in the Jatiya Sangsad Bhaban and placed their demands.
The other demands include an amendment to the International Crimes Tribunal Act, allowing appeals against inadequate punishment and disposal of appeals from both the defence and the prosecution within three months of their filing.
The collaborators, who had been either convicted or under trial but set free from jail after political changeover following the coup on August 15, 1975, must be brought to book, the protesters said.
Abdul Hamid said he would send copies of the charter to Leader of the House Sheikh Hasina, Leader of Opposition in Parliament Khaleda Zia and other ministers concerned for taking necessary actions.
This is the first formal move by the bloggers and online activists since they occupied the capital's Shahbagh intersection on February 5 in protest at an international crimes tribunal awarding Quader Mollah life term instead of capital punishment.
The team had a brief discussion with the Speaker.
Talking to The Daily Star at the Speaker's office, an activist said Abdul Hamid is a neutral person who heads parliament -- the supreme political institution.
The charter also calls for a ban on the Jamaat-e-Islami and like-minded religion-based political parties, anti-liberation forces and collaborators of Pakistani occupation forces.
Besides, all businesses, socio-cultural bodies and media outlets run by war criminals should be banned, the charter says, naming Islamic Bank, Ibne Sina, Focus and Retina coaching centres and media outlets Diganta TV, daily newspapers Naya Diganta, Amar Desh and Sangram and Sonar Bangla Blogs.
Stringent action has to be taken against the Jamaat-Shibir men who recently threatened to wage a civil war and so committed sedition, the protesters said.
They also demanded trial of the political parties, forces, individuals and organisations that are trying to save war criminals and hatching a conspiracy to foil the on-going trial.
The charter signed by Imran H Sarker says protesters took an oath at the February 8 grand rally that they will not return home until their demands are met.