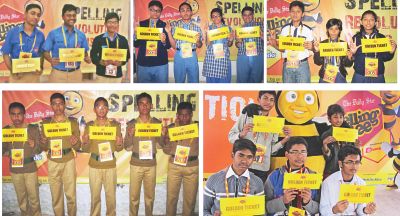 Champs21 teams of The Daily Star Spelling Bee yesterday visited four schools in Chittagong, Rangpur, Dhaka and Sylhet and organised a zonal activation round in Kushtia.
From Little Jewels School in Chittagong, class 7 student Ishamam Mahmud and class 9 students Ferdous Mashiat Sharif, Toha Joher and Md Faisal Chowdhury qualified for the divisional round.
The winners from Rangpur Cadet College are SM Nasim Mahmud (class 8), Md Khalid Hasan (class 9), Md Muhtasim Fuad (class 9), SM Sazzad Sagor (class 8) and Md Mahfuzar Rahman Rimon (class 10).
In Dhaka was visited BAF Shaheen School and College from where three spellers moved on to the next round. They are Gazi Salah Uddin Nuhash (class 9), Samiul Ahsan Pranto (class 10) and Aajmaier Aaqieb (class 8).
In Sylhet, Pioneer School and College was visited. Jannatul Islam Tanveer, Anisa Kabir and Halima Chowdhury -- all students of class 6 -- won the competition.
The zonal activation round in Kushtia saw five qualifiers from two schools. From Kushtia Zilla School won four spellers -- Rohan Rafat (class 7), Tahseen Islam Sujon (class 9), Tanvir Anjum (class 10) and Md Raqibur Rahman (class 10). The other qualifier is Nur Ferdous (class 8) from Sun-up International School.
Students of class 6-10 can take part in the contest by registering and playing the Spelling Bee game on champs21.com. The bulk of the qualifiers will be selected via the online game. Contestants can play the game as many times as they want. Only their best score will be considered. The top scorers in the online game will qualify for the next round.
The online round ends on February 28.
The winner of the Spelling Bee gets Tk 5 lakh worth of education insurance from Metlife Alico, one of the sponsors of the contest, and an all-expenses-paid trip to the USA. The second and third runners-up will get Tk 3 lakh and Tk 2 lakh worth of education insurance respectively.
For more information, log on to www.champs21.com, the first e-learning portal of Bangladesh.