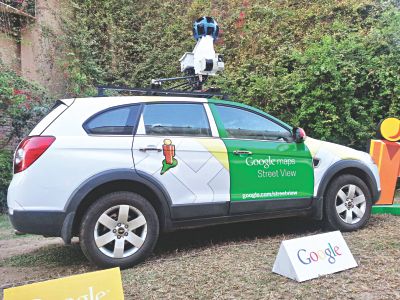 People across the globe will soon see online the landmarks and natural wonders of Bangladesh, and even go inside restaurants and small businesses on both sides of city streets.
Search engine giant Google brings the innovation that will change the way the Bangladeshis and visitors from abroad view and experience the country.
Under a project, launched yesterday, Google cars equipped with powerful cameras will capture the street view in two cities -- Dhaka and Chittagong -- initially, and upload the images with contents of other countries.
Street View is a popular feature of Google Maps, already available in more than 40 countries, and allows users to virtually explore and navigate a neighborhood through 360-degree panoramic street-level images.
Google in partnership with Access to Information (A2I) Programme of the Prime Minister's Office launched the one-year project at an event at Sonargaon Hotel in Dhaka.
Prime Minister Sheikh Hasina in a statement said, "We have always embraced technology and through this partnership with Google we hope to engage more people, both local and global, in experiencing Bangladesh in new ways."
"We believe this mapping technology will offer various benefits and look forward to showcasing a positive view of Bangladesh to the world," she said.
Google said, by bringing the Street View to Bangladesh, Google Maps hopes to help foster the country's economic development and promote Bangladesh as an emerging destination for visitors around the world.
At the launching ceremony, Communication Minister Obaidul Quader said the Street View service will help the people of Bangladesh improve their lives through many different applications of the service.
Civil Aviation and Tourism Secretary Khorshed Alam Chowdhury said, "We are always looking for new ways to increase the number and quality of tourists visiting Bangladesh. We hope Street View will positively contribute to the development of tourism in Bangladesh."
Ann Lavin, director of Public Policy & Government Relations at Google Asia Pacific, said, "We believe Street View imagery of Bangladesh will create new ways to view Bangladesh's bustling streets and by doing so, help attract both foreign investment and tourism."
By providing users and businesses with more useful map information, Street View can also help create lasting economic impact in Bangladesh, he said.
Nazrul Islam Khan, ICT secretary and national project director of the A2I project, also spoke.
According to Google, Global Positioning System (GPS) made a big economic splash around the world. The geo services industry contributes $90 billion in wages around the world, and generates $150 billion to $270 billion of revenue globally.
Geo services also allow businesses and consumers to save on costs by using the geographic information for increasingly efficient planning and decision-making.
Google Street View was launched in 2007 for several US cities and since then has been expanded to include cities and rural areas worldwide.
On June 6, 2012 Google announced that it had captured 20 petabytes of data for street view, composed of photos taken along five million miles of roads, covering about 3,000 cities.