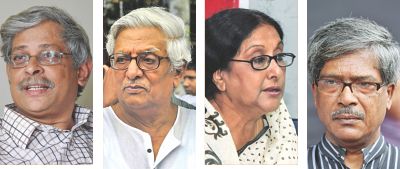 Beaming with pride, 30 lakh martyrs are looking at you from heaven, and so is Shaheed Janani Jahanara Imam.

--Muhammad Zafar Iqbal, educationist
---
The entire country is hearing the masses roar at Shahbagh.
--Kamal Lohani,
journalist
---
Now that our new generations are awake, no-one can stop us building a country free from Razakars and Jamaat-Shibir.
--Mili Rahman
widow of Birshrestha Matiur Rahman
---
While I'm deeply saddened by the verdict, I'm overjoyed to see the youths rallying to the call for capital punishment to the war criminals.
--Anwar Hossain,
VC of Jahangirnagar University