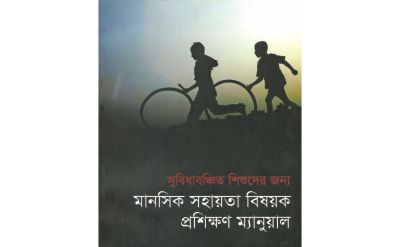 The disadvantaged children living in the slums encounter physical, psychological and sexual abuse and grow up in negligence. Considering the unhealthy and dangerous situation of the slum areas, they are more prone to fall in situations like sexual exploitation, trafficking and drug addictions which inevitably lead to psychological problems.
The children usually have inadequate skills to adjust with abuse, exploitation and critical situation. So they need specialised psychological care. The organisations working in Dhaka city slums active in child protection often face problems in delivering psychological support services like counseling due to lack of resources, capacities and skills.
The European Union and Terre des Hommes Italia co-funded project Developing a safety net for urban marginalised and disadvantaged children has taken some effective interventions to upgrade the capacities and skills of psychological support service providers. They have produced a training manual on Psychological support for disadvantaged children which has been playing a positive role in enhancing the skills of the caregivers in the field of the psychological care.
The manual specifically addresses the needs of the caregivers working with the children at field level. On the basis of the manual, 160 counsellors, social workers, teachers, doctors and legal aid officers have already received training by the two national NGOs Aparajeyo Bangladesh and ARBAN.
The modules included in this manual have been formulated keeping three objectives in mind. In order to provide psychological support, the caregivers involved have to first understand the nature and reasons behind the psychological problems of the children. Only then, they will be able to use counselling as a mean to mitigate and remove the psychological problems resulting from abuse, exploitation and negligence and also they will learn about the referral system to the specialised psychological care centers.
The manual has been designed in such a way that the training can also be well adopted in the education centers situated in the urban slums. There is immense need of psychological support in the educational institutions. Who can be a better guide for the children other than the teachers with sensitive minds and caring attitude. Help children flourish their beautiful mind.
For more information on the manual please write to: info@aparajeyo.org