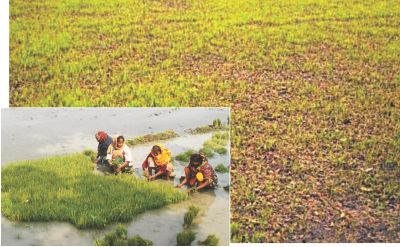 Boro cultivation is suffering in several different districts across the country mostly due to sapling crisis and inadequate power supply.
Biting cold and dense fog damaged boro seedlings in vast areas of Tangail district, leading to its price hike, reports our correspondent.
Besides, acute power shortage hampers irrigation.
"I had to spend Tk 2500 for boro saplings to cultivate my 35 decimals of land this season whereas it took only Tk 400 to buy saplings for the same land last season," said Shahadat Hossain of Kauljani village in Basail upazila.
Abul Latif of Kalia village, Abu Hanif of Suinna, and Motahar Hossain of Koila village in the upazila told of similar problems.
Now many traditional boro farmers in the upazila are making preparation to cultivate other crops, especially jute, on their lands, said sources in the upazila agriculture office.
Many sharecroppers are also showing unwillingness to cultivate boro paddy this season.
"I have returned the land to the owner as I incurred loss of Tk 4000 by cultivating paddy last season due to low prices of paddy," said sharecropper Abdul Kader of Boldi village in Kalihati upazila.
"I have to leave my 11 bighas of land fallen as the sharecroppers returned it, even after I offered them the sapling prices," said Shahin Miah of Kamarthi village in the same upazila.
Meanwhile, several thousand farmers of Sakhipur upazila brought out a procession and held a rally at Borochowna area on Monday, protesting scanty electricity supply during the peak boro season.
Our Gaibandha correspondent reports: Prolonged cold wave accompanied by dense fog has badly affected boro seedlings in the district, much to the worry of farmers in the peak plantation period.
"I have prepared seedbed on a five-decimal plot, but nearly half of the plants have already died. Now I have to procure seedlings for high prices to cultivate one and a half bighas of land," said Abdul Jobbar, a farmer of Jumarbari in Saghata upazila.
Most affected areas are Sundarganj, Gaibandha Sadar, Phulchhari and Saghata upazilas, especially the lands in the basins of Teesta and Brahmaputra rivers.
The time of preparing fresh seedbed is already over and so, farmers of char (landmass emerged from riverbed) areas will have to procure seedlings from distant areas for high prices, said farmer Akkas Ali of Tarapur village under Sundarganj upazila.
Damage to saplings due to cold injuries in the winter is a yearly affair but this season it has become more serious, said the deputy director of the Department of Agriculture Extension (DAE) in the district.
This year boro seedbeds were prepared on 5,822 hectares of land, aiming to cultivate the crop on 1,21,154 hectares of land with a production target of 4,12,000 tonnes of paddy in the district, DAE sources said.
Gopalganj: district, famous for surplus rice production, may not achieve the boro production target this season due to crisis of seedlings, said Ashit Kumar Saha, deputy director of DAE in Gopalganj.
Our correspondent, quoting agriculture officials, said that the farmers are losing interest to cultivate boro due to price hike of seeds, fertiliser, diesel and agricultural inputs as well as price fall of paddy.
Ashim Bala and Anil Bala of Manikdah area under Gopalganj Sadar said they are thinking of cultivating crops other than boro this year as cold wave destroyed the seedlings and prices of seeds, fertilisers, pesticides and agricultural equipments increased.
The DAE this season set a target of boro cultivation on 72 thousand 636 hectares of land in the district but cultivation on only 56 thousand 280 hectares has been completed so far.
The cultivation could cover some more areas lately but the target is not likely to be achieved this year, said sources of DAE in Gopalganj.