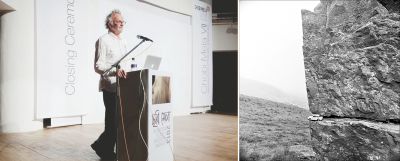 Australian travelling photographer Max Pam talked about his upcoming book "Super Tourist", as the last featured artiste of Chobi Mela VII. The fortnight-long event formally ended on February 5. The organisers held the closing ceremony of the festival at the auditorium of National Art Gallery, Bangladesh Shilpakala Academy, in Dhaka on the day -- two-days ahead of closing of the 35 participating print exhibitions.
Shahidul Alam, festival director, spoke at the closing ceremony with a promise to make the next festival (in 2015) even more vibrant and meaningful.
Pam talked about his 300-page book, which is a chronology of his photographic journey spanning four decades.
Apart from the print exhibitions by photographers from 24 countries, the festival featured artists' talks, seminars, book launches, workshops and slide shows.
A passionate traveller, Pam included photos of people belonging to different communities in Australia, UK, USA, Afghanistan, India, Pakistan, the Netherlands and France.
The four chapters -- "Collage v Bi-Fold", "Old World v New World", "Object v Artefact" and "Islam v Asia" -- of the book have been designed according to Pam's perspectives as a photographer, an artiste and as a common individual.
Pam said that he had worked in the black and white medium for nearly three decades. He shifted to colour at the beginning of this millennium. Most of his photos in the book are black and white. The first chapter, "Collage v Bi-Fold", features his experimental photos, hand-coloured works in the dark room. The third chapter "Object v Artefact" is his super experimentation with miniature objects.
"I just love what I do. That's the bottomline," Pam said at the event.
The book will be launched next year by a French publishing house. Pam said that he would work more to enrich the book until then. So far, Pam has published 14 books -- four from Australia and ten from other countries.
A slide show featuring still photographs from this year's festival was screened before Alam's final vote of thanks.
Chobi Mela VII started on January 25. This year's theme was "Fragility". Drik, along with Pathshala: South Asian Media Academy, arranged the festival.