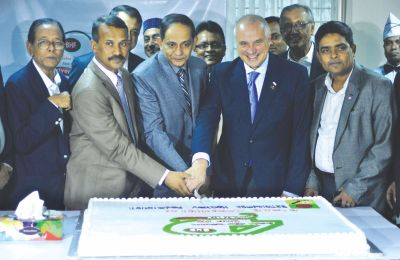 In a bid to meet the request from the Bangladesh Hockey Federation (BHF), the International Hockey Federation (FIH) president Leandro Negre suggested the Bangladesh Hockey Federation to sign a Memorandum of Understanding (MoU) as soon as possible.
"My proposal to BHF, the BOA and the sports ministry is to make a strategic map for the development of Bangladesh hockey disclosing all the aspects and sign a Memorandum of Understanding between parties as soon as possible. This MoU will cover all the aspects of the development," said Negre at a press conference at the BOA auditorium yesterday.
"Bangladesh is a key country for hockey because this country loves hockey. It is a very well located country with beautiful hockey neighbours and for this, the FIH considers Bangladesh as a key country for hockey in Asia," mentioned Negre, who played 32 matches for Spain including the 1968 Olympics in Mexico.
Meanwhile, the BHF sought FIH's help on a number of fronts including astro-turf and floodlights along with the provision of a high-profile coach and opportunities for the Bangladeshi players to play in leagues in Europe.
"I can't make any promise at the moment but we will be working together to find out the way," said Negre. "We will try our best to provide artificial hockey pitches as the FIH has good contact with suppliers of artificial hockey pitches and lighting and we can make nice promotions here. The MOU should cover really the development here in the best possible way," said Negre, who was also president of the European Hockey Federation from 2003 to 2008. "I don't want to talk just for talking and I am a man who tries to achieve what I say," assured the Spaniard.
The FIH president praised Bangladesh's achievement in the World Hockey League (round-1) to advance to the second round and hoped that he would watch matches of Bangladesh in New Delhi. Negre advised the hockey federation to hold the top international tournament once in a year to take the game to new heights and thus FIH could help Bangladesh awarding the international tournaments for the next four to five years.
Negre was visibly impressed having seen the national hockey stadium and also visited Armanitola School in old Dhaka, an establishment which produced a number of hockey stars.