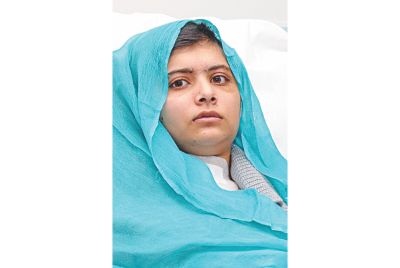 Malala Yousafzai, the shot Pakistani schoolgirl-turned-icon of Taliban resistance, is among those known to be nominated for this year's Nobel Peace Prize, as the deadline expired yesterday.
The Nobel Peace Prize will be announced in early October and will be handed over at a formal ceremony in Oslo on December 10.
Fifteen-year-old Malala Yousafzai was shot by a Taliban gunman at point blank range as she travelled on a bus to school on October 9, targeted for promoting girls' education.
She has since become an internationally recognised symbol of opposition to the Taliban's drive to deny women education, and against religious extremism in a country where women's rights are often flouted.
"A prize to Malala would not only be timely and fitting with a line of awards to champions of human rights and democracy, but also ... would set both children and education on the peace and conflict agenda," said the head of the Peace Research Institute of Oslo, Kristian Berg Harpviken.
Others known to have been nominated are human rights activists whose names have been mentioned in previous years, including Belarussian human rights activist Ales Belyatski -- currently behind bars -- and Russia's Lyudmila Alexeyeva.
Trying to predict who will win the Nobel Peace Prize is a difficult task, complicated by the fact that the list of nominees each year is kept secret for 50 years.
But thousands of people are eligible to nominate candidates -- including former laureates, members of parliament and government around the world, some university professors, and members of certain international organisations -- and they are allowed to reveal the names they have put forward.
As a result, it is known that French, Canadian and Norwegian MPs have all separately nominated Malala.
Some names are already being tossed around as possible recipients of this year's prize even though it is not yet known if they have been formally nominated. They include Bill and Hillary Clinton, the Military Religious Freedom Foundation of the US, and Nicholas Winton of Britain who saved Jewish children in Prague just before the outbreak of World War II.