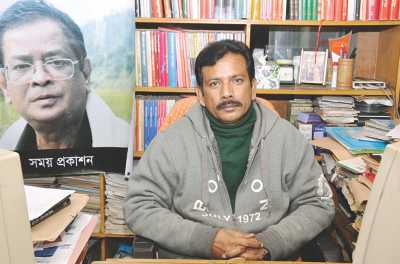 Farid Ahmed is the proprietor of Somoy Prokashoni and executive director of 'Bangladesh Gyan O Srijonshil Prokashok Shomiti', an organisation of publishers. One of the key figures in the country's publishing industry, Ahmed recently spoke to The Daily Star.
---
How did you get involved in the publishing business?
Farid Ahmed:
I started my work in the publishing industry in 1988, by bringing out children's books on the Liberation War. I was inspired to bring out books of this genre, after I realised that there were not many books for children on this topic. I first got a stall at the Ekushey Boi Mela (book fair) in 1989. That year I published books by writers like Syed Shamsul Haq, Humayun Ahmed and Imdadul Haq Milon. That was the start of my career.
What are your preferences when considering publishing something new?
Farid Ahmed:
I focus on writings that are creative and thought provoking -- including novels, poems, fiction, children's stories etc. The rest include memoirs, travelogues and books on the Liberation War.
You also used to publish a magazine?
Farid Ahmed:
In the beginning, I was part of a children's organisation. Later some of my friends and I decided to publish a magazine called 'Odhuna'. I was the publisher, while the late poet Shamsur Rahman was the editor. To meet its costs, I also did some translation work at the time. This work eventually brought me closer to the publishing business.
What are your preparations for this year's Ekushey Boi Mela?
Farid Ahmed:
I believe that each book fair offers new possibilities to publishers. Like every year, we also plan to bring something different to the fair. Selina Hossain has written a historical novel, titled "August-er Ek Raat", for this year's fair. Other noted authors that we will publish include Muhammad Zafar Iqbal, Anisul Hoque etc. The biggest project however is an encyclopedia on the Liberation War -- "Muktijuddho Kosh" -- which will come out in 12 volumes. A collection of 10 Anisul Hoque novels, titled "Shera Dosh", will also be launched at the fair. Besides, we will also publish a book of poems by Justice Muhammad Habibur Rahman.
What are the biggest issues that confront the publishing industry in Bangladesh?
Farid Ahmed:
Our publishing industry is yet to reach international standards. The main reason is the language barrier. All of our readers only read books written in Bangla. We cannot climb over that fence. We have a small readership in West Bengal, but there is no market for our books in the rest of the world. Another problem that we face is that we cannot bring down the book prices. Modernisation is only lifting the cost of publishing. Piracy has also become a headache in recent years.
What is your opinion of the idea that almost anyone can publish nowadays?
Farid Ahmed:
This has resulted from a lack of professionalism. Publishing is the job of a publisher, not a writer. Why should authors spend their own money to publish their works? They are forced to do so when no publisher is interested in bringing out their books. This is causing a drop in quality, as there is hardly any scope for assessment. So the "self-published" books become a burden on the publishing industry.
Which prominent writers did you publish during the previous Ekushey book fairs?
Farid Ahmed:
So far, Somoy Prokashoni has published over a thousand books. Each year we publish works by the top writers. Last year, we brought out poet Hasan Azizul Haq's "Bongo Theke Bangladesh", and books by Muntasir Mamun, Abdullah Abu Sayeed, Abed Khan and Anisul Hoque. We also published works of young writers whose writings are very promising.