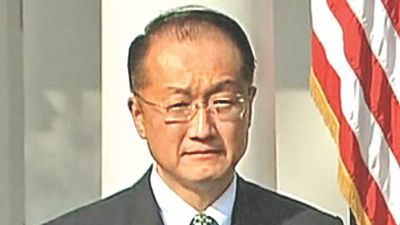 World Bank Group President Jim Yong Kim has strongly said the lender would not finance the Padma bridge until certain conditions are met to heighten oversight in the project and Bangladesh gives an assurance that a complete and fair probe is under way.
"Until certain conditions are met to heighten oversight in the project and give assurance that a complete and fair criminal investigation is under way, we cannot consider financing the bridge," he said.
"I say this knowing how much this bridge means to the people and economy in the southwest of Bangladesh. It is a steel lifeline linking them to opportunity," said Kim in his speech on "Anti-corruption Efforts in a Global Environment: A Commitment to Act" at the Centre for Strategic and International Studies in Washington on Wednesday.
This is the first time the WB chief commented openly on Padma bridge corruption allegations since he took office in July last year.
The WB cancelled its $1.2 billion credit for the bridge project in June last year, saying it had proof of corruption conspiracy involving Bangladeshi officials, executives of a Canadian firm and individuals.
Though the Bank later revived the loan deal on some conditions, construction of the bridge, the country's largest infrastructure project, at an estimated cost of about $3 billion still remains uncertain.
Kim said the Bank needs to take risks for development results but it has to do that with eyes open and try to mitigate those risks as much as it can.
"However, sometimes things go wrong and then we need to stand firm."
"This is what happened in the case of the Padma bridge project where insufficient response by the authorities to the evidence of corruption at the time made us terminate a $1.2 billion credit in June last year."
Kim said he has no intention to pre-empt things, as legal and other processes have to run their course.
He said the funding will not be available for the bridge until the government meets the conditions.
The WB chief, however, said the Bank has remained engaged in Bangladesh with commitments of about $4.3 billion in over 30 projects.
"Our lack of tolerance for corruption does not mean that we ignore the larger development picture."
"Few issues are more important for development and shared growth than good governance."
He reiterated that combating corruption would be one of the Bank's top priorities during his tenure in order to establish good governance.
According to an estimate, $20 to $40 billion are stolen from developing countries each year through corruption, he said.
Kim said the Bank last week took stock of its investigations into misconduct in its projects. "This exercise revealed that we had closed 609 investigations and generated 250 debarments over the past four and a half years."
"I have asked the relevant units in the Bank to sift through this body of evidence, distill the lessons so that we can better modulate risk to ensure that those insights guide future business decisions."
He said the Bank's willingness to work in difficult situations and an appetite for measured risk should never be confused with a willingness to tolerate corruption in its projects and activities.
"Let me say it loud and clear: When corruption is discovered in our projects and activities, we have zero tolerance for it within the World Bank Group.
"We should learn from governments' enforcement and prevention measures -- Brazil has made some radical interventions to turn drug-infested favelas into safer neighbourhoods; in Italy the tax authorities are using an unorthodox approach called Redditometro to expose tax dodgers; in India the government is grappling with an anti-corruption bill."
The WB chief said the bank needs to be focused more on solving real-world problems than the traditional "best practice" model of institutional development.