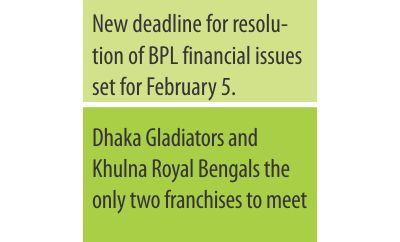 The Bangladesh Cricket Board (BCB) once again extended the deadline, till February 5, for the franchises to resolve all pending financial issues. Yesterday was the last day for the franchises to complete the 25 per cent of the players' fees but only Dhaka Gladiators and Khulna Royal Bengals complied with the deadline, according to the BPL governing council.
While the BPL governing council chairman Afzalur Rahman Sinha expressed his frustration over the players' non-payment, an issue that is tarnishing the image of the country's cricket, member secretary IH Mallick however said that the matter will be solved by next Tuesday as per the latest deadline.
"Dhaka Gladiators paid their money and they also sent the players' contract documents through courier service while Khulna also gave their amount and contract documents, so their players will get their money within the next three-four working days. But the rest of the franchises are yet to pay their fees and as per their request we extended the date till Tuesday. We are hopeful. There is no reason to be worried about the payment because BCB is the guarantor," said Mallick.
The players were promised 25 per cent of their fees before the start of the tournament and for the foreigners, as soon as they arrived in Bangladesh, another twenty-five percent before the last game and the final fifty percent within 150 days of the end of the event. But the players are yet to receive any amount after two weeks of the tournament's start.
The players, especially the foreign cricketers, have started talking about the issue and are getting more nervous by the day.
"I'm really fed up with one broken promise after another. I don't want to make any comment at this moment because I will talk with our board president (Nazmul Hassan Papon) regarding this prevailing situation. I can only say that the time has come to take a hard line. You know two big companies are very much interested in buying a franchise, so there is no point in being worried," said Sinha.