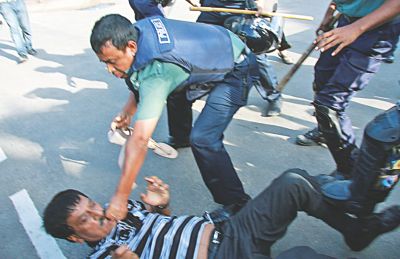 Home Minister Mohiuddin Khan Alamgir is a very exceptional person. He does and says things which are so incredulous. Harun-ur-Rashid, DC of Lalbagh division in the capital and 66 other police personnel were awarded Bangladesh Police Medal and President Police Medal on January 22, 2013 for their outstanding role in maintaining law and order in 2012. But we have not seen any improvement in law and order, rather it slid downward. So how could they receive the medals?
DC Harun got the medal for beating up opposition Chief Whip Zainul Abedin Farroque on Manik Mia Avenue in the capital on July 6, 2011, when he was leading a group of opposition lawmakers during a hartal enforced by the BNP.
We saw on the electronic media how Zainul Abedin Farroque, bleeding profusely from the merciless beating, was trying to run away from the attackers. It was a ghastly scene.
DC Harun was also present at the place when Bishwajit Das, the innocent youth, was hacked to death by the activists of Bangladesh Chhatra League, but he did not try to save him, but just looked on.
If these could be the criteria for receiving medals, other policemen will be emboldened and try to please the home minister by their unjustified ruthless actions and compete with each other to be more violent.