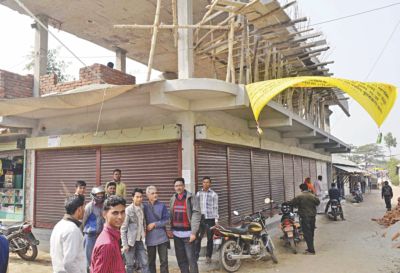 A ruling party man is constructing a multi-storied shopping centre cum hotel on an occupied khas land at Baher Char Bazar in Rangabali upazila under the district.
Humayun Kabir, organising secretary of Rangabali upazila unit of Awami League (AL), also president of the same upazila unit of Jubo League, has already completed work of the ground floor of the building covering 2100 square feet area and handed over five shops to renters.
Visiting the area on Tuesday, a team of local journalists saw the ongoing building construction on the khas land at Baher Char Bazar beside the bridge on Gohinkhali canal. Construction workers said they have already completed the ground floor and the roof of the first floor.
The building is being constructed on a khas land illegally, said sources at Rangabali upazila land office.
One year ago three locals Humayun Kabir Talukder, Abu Motaleb Talukder and Babor Talukder submitted prayers seeking yearly-based allocation of a total of 1.5 acres of khas land (0.50 acre for each) but none of them has got such allocation till now, said an official at land office on condition of anonymity.
"We minor field level staff cannot take legal action against the land grabbers as they are politically and socially influential," he added.
Contacted, Humayun Kabir said, "The land has been under the possession of our family for at least 30 years and we are conducting grocery and hotel business there. Now we have planned to build a shopping centre on the ground floor and a hotel on the other floors.
Asked if the authorities concerned made allocation of the land for the purpose, he said, "We submitted three prayers to the concerned office and those are under process. We hope that we will get DCR (duplicate carbon receipt) of the allocation order very soon."
Acting Assistant Commissioner (Land) Md Mahbub Alam said, "I don't know the matter of building construction on occupied khas land. It is illegal to build permanent structure on a khas land even if it is leased. I will take necessary action after proper investigation."
When contacted, Md Liakot Ali, upazila nirbahi officer of Rangabali said, "I have already verbally forbidden him. We will take lawful action regarding the matter and the occupied land will be recovered very soon."