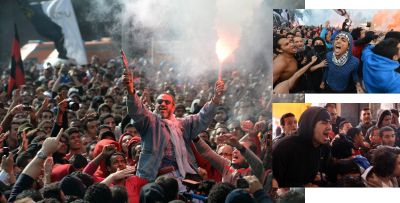 Twenty-six people were killed in Port Said yesterday after 21 Egyptian football fans and club members were sentenced to death over a deadly post-match riot last year in the canal city.
The clashes erupted after a Cairo court handed down the death sentences over the football riot last February between Port Said home side Al-Masry and Cairo's Al-Ahly in which 74 people were killed, and came a day after violence swept Egypt on the second anniversary of its uprising killing nine people.
As news of the verdict emerged, relatives of those condemned tried to storm the prison in Port Said where they are being held, leading to fierce clashes with security forces.
Unidentified assailants used automatic weapons against police who responded with tear gas, witnesses said.
Two police stations in Port Said were stormed, an AFP correspondent said, and heavy gunfire could be heard in the Al-Manakh neighbourhood.
Ambulances ferried the injured to hospitals all shops and businesses closed for the day as protesters set tyres alight and mosques urged worshippers to donate blood.
Troops are being sent to Port Said, a senior army officer said.
The clashes have left 26 people dead and 200 injured, a health ministry statement said. Two policemen were among those killed, the interior ministry added.
Meanwhile, Egypt's opposition threatened to boycott upcoming parliamentary polls if President Mohamed Morsi -- facing his worst crisis since coming to power in June -- does not find a "comprehensive solution" to the unrest gripping the country.
The National Salvation Front, the main coalition of parties and movements opposing the ruling Islamists, called for among other things the creation of a "national salvation" government, otherwise it will "not participate in the next parliamentary elections."
Last February's riots between fans of Port Said home side Al-Masry and Cairo's Al-Ahly also sparked days of violent protests in Cairo, in which another 16 people were killed.
Many Egyptians believe the violence was orchestrated either by the police or by supporters of ousted president Hosni Mubarak.
The Cairo court has handed its verdict to Egypt's top cleric for his final opinion, as is customary, and set March 9 for delivering verdicts on another 52 defendants, including police officers.
The sentence is subject to appeal, judicial sources said.
The sentences come after a day of clashes marking the revolution's second anniversary left at least nine people dead and 530 injured.
Tens of thousands took to the streets nationwide on Friday to protest against Morsi, who is accused of failing the revolution and consolidating power in the hands of his Muslim Brotherhood.
Demonstrators also clashed with the security forces in Egypt's second city Alexandria, witnesses said.
Morsi early yesterday used Twitter to appeal for calm, urging "citizens to adhere to the values of the revolution, express opinions freely and peacefully and renounce violence."