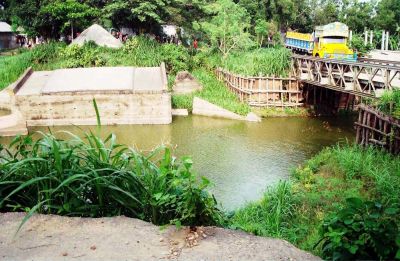 Hundreds of vehicles use an awfully dilapidated bailey bridge on a canal on Tarakandi-Bhuapur-Bangabandhu Bridge road every day, risking accident anytime.
The deck of the bridge, constructed in 2004 beside a flood-damaged box culvert to keep vehicular movement on the road normal, have developed many cracks and holes. The bridge shakes when vehicles cross it.
Truck driver Abdul Samad said, vehicles, including hundreds of fertiliser-laden trucks from Jamuna Fertiliser Factory in Tarakandi and cattle-laden trucks from the country's largest cattle market in Govindasi, pass through the dilapidated bridge regularly.
"We have to cross the bridge carefully and very slowly as it has become vulnerable to collapse," driver Samad said.
The box culvert on the road at Bagbari in Bhuapur upazila was fully damaged by flood in 2004. Two more box culverts on the road were partially damaged at the same time and later repaired.
Local people said they repeatedly requested the authorities concerned to repair the flood-damaged box culvert on the important road, but to no effect.
Contacted, Shawkat Ali, executive engineer of Roads and Highways Department (RHD) in Tangail, said they have already sent a proposal to the higher authorities to construct a bridge at the site of the damaged box culvert.