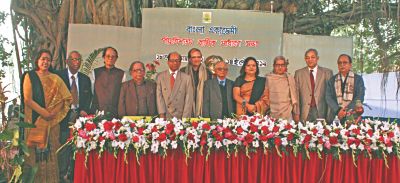 The 35th annual general meeting of Bangla Academy was held on December 28 at the academy premises. Shamsuzzaman Khan, director general of the academy delivered the annual report. Mohammad Altaf Hossain, secretary of Bangla Academy delivered the budget and elaborated on the varied activities of the academy.
On the same day, the academy awarded honorary fellowships to ten distinguished personalities, for their outstanding contribution to different fields. The fellowships were awarded in the second session of the annual general meeting.
The awardees are prominent artist Murtaja Baseer; Home Minister Dr. Mohiuddin Khan Alamgir; Central Bank Governor Dr. Atiur Rahman; economist M Saiduzzaman; former Chief Justice M Tafazzal Islam; singers Runa Laila and Sabina Yasmin; physician Pran Gopal Datta; publisher Mohiuddin Ahmed and musician Pandit Ramkanai Das.
Professor Anisuzzaman, president of Bangla Academy and Shamsuzzaman Khan, handed over citations and bouquets to the recipients of the fellowship.