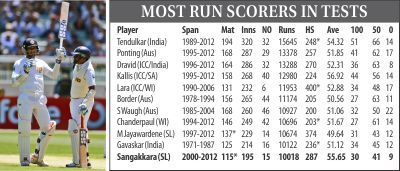 Elegant Kumar Sangakkara helped lift some of the gloom of another underwhelming Sri Lanka first innings as the tourists face a game of catch-up with Australia in the second Melbourne Test on Wednesday.
Coach Graham Ford admitted some of his players might have been under pressure to perform on the big stage of the vast Melbourne Cricket Ground with a 67,138 Boxing Day first day crowd on the showcase day of the Australian cricket season.
Only Sangakkara rose to the special occasion for the tourists with his polished 58 dwarfing the contributions of his teammates in a woeful below-par first innings of 156 off just 43.4 overs after winning the toss.
In doing so Sangakkara joined a select group of Test batsmen who have scored 10,000 runs.
Sangakkara became the equal-fastest to the 10,000 milestone, reaching it in his 195th Test innings, the same as Sachin Tendulkar and Brian Lara.
His stoic knock in 195 minutes was only brought to an end by a stunning running catch made by wicketkeeper Matthew Wade.
"Once you get out there, you've got to have a clear mind and you've got to make good decisions and I think Kumar showed just how important that is," Ford said after Wednesday's play.
"I think everybody watching thoroughly enjoyed the elegance of the player. He really is something special when he plays like that.
"And to achieve what he has achieved is absolutely amazing, so for us, although it was a disappointing day in many ways, that brought a lot of joy to the lads.
"He's very popular in the dressing room and to see him achieve that everybody's absolutely delighted."
Sangakkara's knock earned the admiration of Australian left-armer Mitchell Johnson, whose four wickets for 63 enabled him to bring up 200 Test wickets, significantly with the stunning dismissal of Sangakkara.
The stylist left-hander was out to a magnificent running catch behind the wicket by wicketkeeper Matthew Wade, who scampered 30 metres before flinging himself to take a diving catch and deliver Johnson his 200th wicket in his 49th Test.
"He was just patient. He was leaving very well, but also he was going after his shots," Johnson said of Sangakkara.
"He waited on the fuller balls, he drove really well and he just had more patience and he just wanted to stick out.
"He's an unbelievable player. He's the [joint] quickest to get 10,000 runs and he's been around for a long time and he knows how to play cricket."
Ford realises the uphill task now confronting Sri Lanka after they again struggled to post a challenging first innings total for Australia to chase.
"Pretty clearly we're back to playing catch up unfortunately. We found ourselves doing that in the last Hobart Test and we're desperate not to do it this time round," Ford said.
"But that's what it is. Tomorrow morning's first session is going to be extremely vital that we get in and bowl well and hopefully strike early."