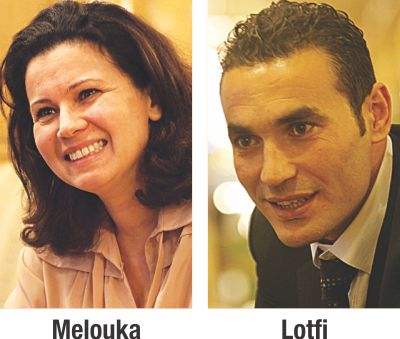 As soon as the civil war raged in Libya last year to oust strongman Gaddafi, thousands of migrant workers including Bangladeshis started fleeing the North African nation. One of the largest concentrations of refugees was at Choucha on the border of Libya and Tunisia. The suddenness of the exodus from Libya puzzled the world communities. The Tunisians opened their borders and heartily extended hospitality to whom they called their guests. Aid agencies from around the world also started to arrive there.
Narges Ben Melouka and Jaziri Lotfi, the two humanitarian aid workers from the Islamic Relief, came to Dhaka on Tuesday on the occasion of the International Migrants Day to receive awards from the Bangladesh government for their extraordinary contribution to helping the refugees during the crisis. Up to 20,000 Bangladeshi migrant workers from Libya took refuge in the Choucha refugee camps.
Melouka and Lotfi talked to The Daily Star on Tuesday about their experience.
Melouka was based in Paris when she learnt about the arrival of refugees in her native country. She soon organised and led a team on behalf of the Islamic Relief, a humanitarian aid agency, to help the increasing number of refugees arriving at Choucha.
"It was a challenge in terms of shelter, sanitation, hygiene and food for so many people of so many nationalities," said Melouka sitting at the lobby of Hotel Ruposhi Bangla in the capital.
"In the first few days, when international aid agencies were yet to arrive, I was amazed to see how Tunisians from all over the country came forward with relief that included foods, warm clothes, blankets, potable water and whatever they could afford to spare. The refugees were considered guests, and the Arabs are famous for their hospitality to guests," she said.
Melouka and her team arrived at Choucha in early March. Soon, the camps were filled to the brim.
"We set up a kitchen that eventually served up to 14,000 hot meals a day and we organised campaigns in the camp to raise awareness on waste management and hygiene," she continued. "We also set up two overhead water tanks each with a capacity of 500 litres."
In addition, Melouka said, they installed 40 showers and 40 toilets separately for men and women.
Lotfi, who joined the camp from Tunisia, said the Bangladeshi workers were among the most polite and disciplined people in the camps.
"You could tell about their patience evident in the way they quietly waited in long queues for breakfast, lunch and dinner," said Lotfi. "We never had any problem with the displaced Bangladeshis in Choucha."
"We are really proud to be honoured by the hospitable people of Bangladesh for our role during the refugee crisis at Choucha," said Melouka.