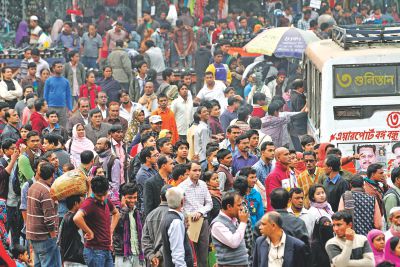 City commuters suffered from gruelling traffic in the pre-hartal evening yesterday as 12 Islamist and likeminded parties are set to enforce a countrywide dawn-to-dusk strike today.
In Dhaka, the shutdown will remain in force till 2:00pm, while the Rangpur City Corporation area has been kept outside the purview of hartal for the polls to RCC, Zafrullah Khan, member secretary of the 12-party combine, told The Daily Star last night.
However, eight parties of the 12-party combine said they do not support the hartal which was called earlier under the banner of Islamist and likeminded 12-parties protesting some leftist parties' "conspiracy" against the pro-Islamist forces.
"In a release we have clarified our stance that we are not supporting this strike," Abdul Mobin, chairman of Islamic Party, told this newspaper.
Jamaat-e-Islami, a key component of the BNP-led 18-party alliance, was backing the Islamist parties to enforce today's shutdown, insiders in the 12-party combine said.
Contacted, secretary general of Bangladesh Khelafat Andolon Zafrullah Khan said, "Last week we reached a unanimous decision that we would call a countrywide hartal if the leftist parties enforce a strike on December 18. But what can we do now if they [Islamist Party and others] refuse to back the strike?"
Commuters had to wait for hours at Farmgate, Shahbag, Moghbazar and Mirpur-10 intersections to catch buses to their destinations due to scarcity of public transport.
Different bus services stayed off the streets fearing vandalism and arson attacks on vehicles, a transport worker of Bikolpo Paribahan said.
Today's hartal will be the third one in a span of eight days. On December 13, the BNP-led 18-party alliance enforced an eight-hour hartal across the country.
Communist Party of Bangladesh, Bangladesher Samajtantrik Dal and Ganatantrik Bam Morcha, a platform of left-leaning parties, enforced another nationwide daylong hartal on Tuesday to press home their demands including ban on religion-based politics and ensuring speedy trial of war criminals.
VANDALISM BY JAMAAT
Activists of Bangladesh Jamaat-e-Islami and Islami Chhatra Shibir yesterday resorted to violence during hartal hours (6:00am to 2:00pm) in Bogra, Rajshahi, Chapainawabganj and Pabna. They threw hand-made bombs at a police patrol van in Rajshahi and vandalised over 14 vehicles.
At least 15 Jamaat-Shibir men were detained by the law enforcers in the districts.
In Pabna, pro-hartal pickets fought pitched battles with police after hartal hours, leaving 10 people including three policemen injured.
Of the wounded cops, Officer-in-Charge (investigation) Nure Alam and Sub-Inspectors Md Mahfuz and Tarikul Islam of Pabna Sadar Police Station were hospitalised.
Critically injured Mahfuz was later shifted to Rajshahi Medical College Hospital.
Jamaat called the hartal in Rajshahi division demanding release of its central Publicity Secretary Tasneem Alam, who was arrested on Monday in the capital.
Rajshahi police said some Jamaat-Shibir men exploded around 10 hand-made bombs on and around the patrol van of Detective Branch of police in Kazla area.
None was injured in the incident as the law enforcers managed to get to safety before the bombs went off.
No inter-district bus operated during the hartal hours, while all the educational institutions and shopping malls remained closed.
In Bogra town, Jamaat-Shibir activists vandalised at least 10 vehicles. They also torched a cotton-laden truck near Shaheed Ziaur Rahman Medical College Hospital. Police arrested town unit Jamaat Ameer Rafiqul Islam during a clash with pro-hartal pickets.
In Chapainawabganj, a group of Shibir men put electric poles and logs on Chapainawabganj-Sonamasjid highway at Biswa Road intersection, causing disruption to traffic.