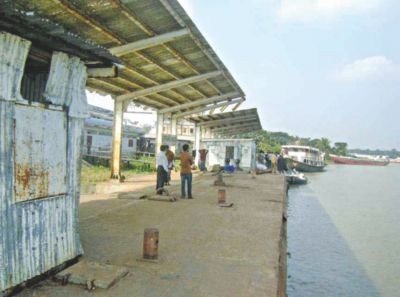 Double decker launches on Dhaka-Patuakhali route went on an indefinite strike after a group of ruling party men assaulted a launch supervisor yesterday.
Launch staffs and owners said, at about 8:00 am around 10/12 men led by Gazi Hafizur Rahman Shabir alias Shabir Gazi, secretary of town unit Awami League (AL), swooped on Eunus, supervisor of Sundarbans-6, a double decker launch.
The gang physically assaulted Eunus as he refused to pay toll, they said.
After the incident, all three double decker launches that reached Patuakhali from Dhaka yesterday morning and were scheduled to leave Patuakhali for the capital city in the evening, moved off the terminal and anchored in Lohalia area, on the other side of the terminal.
Abul Kalam Khan, owner of a launch told this correspondent that they called the strike following a meeting of the owners at noon yesterday.
"We took such decision to press for ensuring safety of launches and staffs," he said.
"We will continue our strike until the authorities take lawful action," he added.
Shabir Gazi however, refuted the allegation of assulting launch staff.
Opposition called half-day hartal and some launch staffs were preparing to bring out a procession in the town, he said, adding, "So, we, on behalf of town AL, just tried to resist them".
Sources said, a section of ruling AL men were engaged in collecting toll from all launches on the route.
Protesting the matter, owners stopped plying launches two month ago and later withdrew their programme after the local administration assured them of steps in this regard.
After some days, the gang reappeared and started collecting toll from the launches as usual, they said.